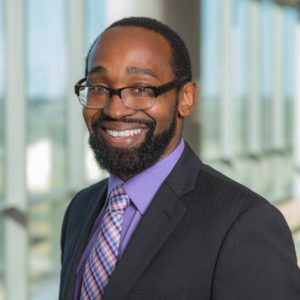 ELGRIE J. HURD III, MS, MSED
Faculty Member
Elgrie Jones Hurd, III is originally from eastern Menlo Park, California. He holds a master's degree from Grand Canyon University in psychology, with an emphasis in industrial-organizational psychology. He holds a master's degree from San José State University in sociology, with an emphasis in sociology of education. He also has a bachelor's degree from Cal Poly Pomona University in sociology. During his studies at San José State University and Cal Poly Pomona, Elgrie focused on several academic support and student affairs projects helping students not drop out of school. For over 20 years, Elgrie has worked in education in some capacity. He has served as an adjunct professor, middle school and high school teacher, a student services dean, an upward bound coordinator, and even a consultant/staff member for faculty training, student leadership development, tutor training, and overall academic support. He is a faculty member for the Psychology and Sociology Departments at the Brookhaven Campus of Dallas College (formerly Dallas County Community College District). Elgrie has served as an adjunct faculty member for Criswell College, Messenger College, Parker University, Strayer University, and Tarrant County College. He also serves as a contributing editor for numerous psychology and sociology textbooks. His efforts at previous institutions helped them exceed expectations in academic support and student support services by programmatic accrediting bodies. In his many roles, he worked diligently to address college readiness/success needs of at-risk high school students, college students and even parents/guardians of students.
Over the last 13 years Elgrie has traveled around the country educating educators and parents about the power of culturally relevant education. Elgrie specializes in educational consulting, diversity/inclusion, motivational speaking, and organizational program evaluations. As it relates to serving the community, Elgrie served as the secretary for Communities in Schools – Dallas Region's Leadership Council for nearly 3 years, an influencer for the online women's networking empowerment site onmogul.com, and is a member of Alpha Phi Alpha Fraternity, Inc (initiated through the Iota Psi Chapter at Cal Poly Pomona). Elgrie is currently pursuing his doctorate. His goal is to use to his studies to develop strategies to enhance emotional intelligence awareness of students at all levels of education. Elgrie resides in the Dallas-Fort Worth Metroplex (Texas) with his wife, Althea, and their four children.
Fun fact: Elgrie used to travel around the country teaching parents and educators how to use Hip-Hop to help students master required school content.