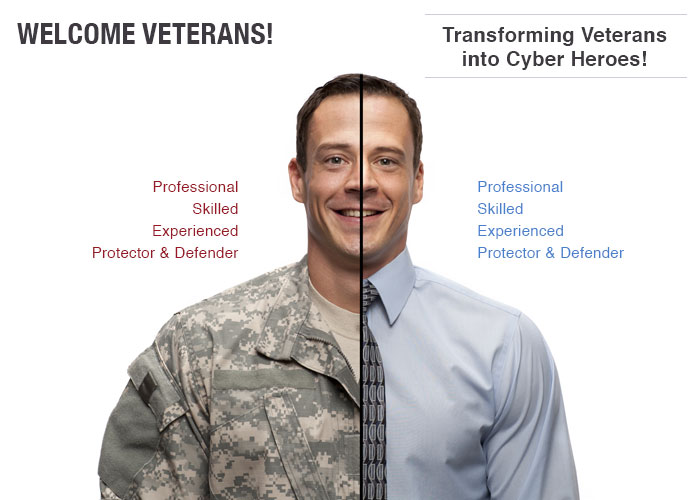 The problem
We are not Safe!
Cyberspace: Fertile ground for attacks. NO individual or organization is safe without employees being equipped with both the right skills set and knowledge to defend and protect them.
Critical shortage: Cyber security professionals are urgently needed at all levels of organizations.
The Facts
20 million CYBER ATTACKS PER DAY!
There are 1.5 million vacancies worldwide in the cyber workforce.
84% of these openings require at least a bachelor's degree.
The Opportunity
Cyber Heroes are needed across every industry
The fastest increases in demand for cybersecurity workers are in Finance (+137% over the last five years), Health Care (+121%), and Retail Trade (+89%). (Burning-glass.com)
ECCU is dedicated to equipping our veteran community to become heroes and warriors in the battle for Cyber Security.
Veterans are ideal candidates for this career field. Discipline, ethics and integrity characterize military service. This experience and
these qualities will uniquely qualify those who served to be protectors and defenders of cyber space and organizational assets.
Join fellow future cyber security leaders in studies featuring ethical hacking, forensic investigation, penetration testing, secure programming, incident handling, cyber leadership and much more.
Our Programs
| | | |
| --- | --- | --- |
| Undergraduate | We offer programs that suit your needs | Postgraduate |