Cloud Security Architect (MSCS)
100% Online. Flexible. Accredited
New Term Starts on October 2, 2023
Cloud Security Architect (MSCS)
100% Online. Flexible. Accredited
New Term Starts on October 2, 2023
Cloud Security Architect specialization (MSCS)
Overview
The Cloud Security Architect specialization focuses on planning, analyzing, designing, configuring, testing, implementing, maintaining, and supporting an organization's on-premise and cloud security infrastructure.
The Cloud Security Architect specialization trains you to harden enterprise architecture and cloud architecture from the most advanced attacks and secure programming practices to overcome these inherent drawbacks to pre-empt bugs from the code and designing and implementing cloud security.
EC-Council University has been ranked in the "Top 45 Online Master's in Internet Security Degree Programs" by Intelligent.com, highlighting our high standards of quality postsecondary education.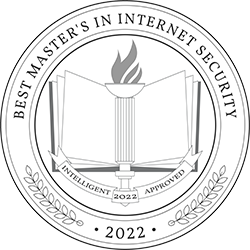 Cloud Security Architect
Cloud Security Engineer
Cloud Security Analyst
IT analyst
Systems analyst
Computer Network Architect
Enterprise Architect
Security Architect
Systems Requirements Planner
System Testing and Evaluation Specialist
Information Systems Security Developer
Systems Developer
Cloud Information Security Specialist
Cloud Security Professional
Cloud Support Consultant
IT Support – Cloud
Technical Support Specialist
Network Operations Specialist
System Administrator
Systems Security Analyst
Chief Information Security Officer
Information Security Officer
Chief Security Officer
Information Assurance Security Officer
Industry Certifications Included in the Program!
ECCU understands the current need of students to be industry-ready; hence, all of EC-Council's relevant industry certifications have been included in the various specializations, allowing the student to graduate with not only a Master's degree, but a string of certifications as well.
Certifications

Master' Degree Courses

EC-Council Examination Price

ECCU Student Price

ECCU 500
Managing Secure Network Systems
$350 + $100
Application Fee
Included in the Program
ECCU 501
Ethical Hacking & Countermeasures
$950 + $100
Application Fee
Included in the Program
ECCU 510
Secure Programming
$350 + $100
Application Fee
Included in the Program
Fees
Total Tuition Fee: $20, 440
Course Description
ECCU 505 Introduction to Research and Writing
Three Credit Hours
This foundational core course introduces students to basic English writing skills and research methods, including APA style writing, citing sources, determining when a website is credible, effective communication, outlines, and collaboration. Students will write/present portions of the above in the course in various formats.
MGMT 502 Business Essentials
Three Credit Hours
This course will lay a broad foundation of understanding the processes of global business principles for a varied population of students who work in businesses of all kinds, including the IT and IA fields. It covers the latest changes in Information Technology for Business, including computer-aided manufacturing (CAM), application software, and recent ethical issues arising from IT. Real-life business examples are added throughout the course that reinforce the business principles.

ECCU 504 Foundations of Organizational Behavior
Three Credit Hours
This foundational course deals with organizational behavior and allows the technology practitioner to experience the basic facets of organizational theory and define the skills required to understand and apply the theory to a real organizational setting. Elements of the course are organizational structure, effective communication, team building, ethics, and project management as seen through the organizational lens.

ECCU 516 The Hacker Mind: Profiling the IT Criminal
Three Credit Hours
Cyberspace has increased human communication, connectivity, creativity, capacity, and crime by leaps and bounds in the last decade. For all the positive aspects it offers, it offers as many negative aspects. Those negative aspects are explored and developed by everyone from the high school challenge hacker to an international terrorist. The IT criminal threatens businesses, governmental agencies, militaries, and organizations of every kind. This course will survey the spectrum of psychological attributes that may make up the profile of the IT criminal.
ECCU 514 Leadership and Management in Organizations
Three Credit Hours
This course encompasses an extensive research project about cross-cultural differences in leadership conducted by a group of researchers in 62 countries. It lays a foundation for understanding the process of leadership. The study describes the roles, functions, and impact of global leadership concepts. Many team exercises provide the speed at which leaders must work. Research and views into how most cultures respond to this area of management are provided.
ECCU 500 Managing Secure Network Systems
Three Credit Hours
This course focuses on evaluating network and Internet security issues, designing and implementing successful security policies and firewall strategies, and exposing the system and network vulnerabilities and defending against them. Topics include network protocols, network attacks, intrusion detection systems, packet filtering and proxy servers, Bastion hosts and honey pots, hardening routers, hardening security, email security, virtual private networks, and creating fault tolerance.
ECCU 507 Linux Networking and Security
Three Credit Hours
This course focuses on configuring a secure Linux network using the command line and graphical utilities. Emphasis is placed on file-sharing technologies such as the Network File System, NetWare's NCP file sharing, and File Transfer Protocol. Additional topics include making data secure, user security, file security, and network intrusion detection. Students will be required to take on the role of problem solvers and apply the concepts presented to situations that might occur in a work environment.
ECCU 501 Ethical Hacking & Countermeasures
Three Credit Hours
This course focuses on how perimeter defenses work, how intruders escalate privileges, and methods of securing systems. Additional topics include intrusion detection, policy creation, social engineering, DoS attacks, buffer overflows, and virus creation.
ECCU 520: Advanced Network Defense
Three Credit Hours
This course focuses on the fundamental areas of fortifying your defenses by discovering methods of developing a secure baseline and how to harden your enterprise architecture from the most advanced attacks. It provides segmentation and isolation to reduce the effectiveness of advanced persistent threats.
ECCU 524: Designing and Implementing Cloud Security
Three Credit Hours
This course provides comprehensive knowledge of cloud services, as well as their characteristics, benefits, applications, and service models. It covers planning, designing, and implementing cloud security controls. It delves into various cloud standards, countermeasures, and best practices to secure information in the cloud. The program also emphasizes the business aspects of cloud security such as cloud uptime, uptime guarantee, availability, fault tolerance, failover policy, and how cloud security strengthens the business case for cloud adoption.
ECCU 525: Security Cloud Platforms
Three Credit Hours
The sole benefit of cloud computing is to reduce operating costs and increase efficiency by getting rid of on-premise servers. However, poor cloud security practices make your environment vulnerable to threats like ransomware, denial of service, data breach, and various other malicious activities.
This course focuses on how to best manage the risk in your cloud environments. It includes data protection, types of service models for cloud services, the right procedure for every deployment model, and dimensions of cloud security through theories and hands-on experience. Further, it teaches you to manage, configure, and implement cloud security services for a majority of available platforms.
By the end of this course, you will be equipped with IT security skills––such as password management, role management, encryption, auditing, application control, access control, and centralized security monitoring––and will be able to leverage these skills to your advantage.
ECCU 510: Secure Programming
Three Credit Hours
Certified Application Security Engineer (CASE) is a hands-on, Instructor-led, comprehensive application security course, which encompasses security activities involved in all of the phases of the Software Development Lifecycle (SDLC). The course also focuses on selecting and implementing the right security strategies, guidelines, and practices that are widely accepted and applicable to most environments used today.