ECCU Community College Partner Scholarship
At EC-Council University, we respect Community and Technical colleges' work in the U.S. and worldwide. They are pivotal in helping students build a strong foundation for their professional development.
We are committed to working with these institutions to provide students with a seamless pathways to advanced education and career opportunities in the technology field.
Community and Technical colleges provide a valuable starting point for students pursuing higher education or vocational training. These institutions offer a range of academic programs that prepare students to transfer to four-year universities or immediate entry into the workforce.
Community and Technical colleges also provide a supportive and inclusive learning environment that promotes student success, and they often offer flexible scheduling options to accommodate students with work or family responsibilities.
Overall, Community and Technical colleges serve as an essential pathway for millions of Americans' higher education and career opportunities.
ABOUT ECCU COMMUNITY
COLLEGE CONNECT INITIATIVE
To support students from Community and Technical colleges that aspire to become cybersecurity professionals, EC-Council University pledges to launch an innovative scholarship to support their higher education.
At EC-Council University, we understand that the cost of higher education can be a significant barrier for many students, especially those who attend community colleges. That's why we are proud to announce the launch of our innovative scholarship program, which is designed to provide financial support to community college students who want to pursue a Bachelor's Degree in Cybersecurity.
CORE PHILOSOPHY

OF THIS INITIATIVE
The EC-Council University's Community and Technical College Connect Initiative is an excellent opportunity for individuals who have faced challenges in accessing higher education, specifically in cybersecurity, or to pursue their Bachelor's degree.
This scholarship is open to students at community colleges or technical schools in the U.S. who have earned an Associate's Degree or 60 transferable credit hours in cybersecurity or any IT-related field and are applying for the Bachelor of Science in Cybersecurity program.
It is designed to promote social equality by providing access to an accredited Bachelor's Degree Program.
Recipients of the scholarship will be awarded a scholarship equal to 30% of their tuition costs towards the Bachelor of Science in Cybersecurity Degree program, which also covers the cost of 5 industry-recognized certifications.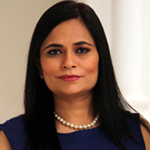 "EC-Council University's Cybersecurity programs are now accessible to aspiring professionals via its scholarship initiative. These world-class programs provide cutting-edge training to detect and prevent cyberattacks, identify vulnerabilities, and safeguard critical infrastructure against increasingly sophisticated cybercriminals. This initiative bridges the technical cybersecurity competency gap, enabling individuals to mitigate risks and protect valuable data.
I welcome students of our community and technical colleges to come and explore our cybersecurity programs."
Lata Bavisi
President, EC-Council University
The ECCU scholarship is a game-changing opportunity for community college students who aspire to become cybersecurity leaders and make a real difference in their communities.
With our financial assistance and cutting-edge resources, students can realize their potential and unlock a world of possibilities.
Our program is bridging the employment gap and providing a pathway for these students to earn their Bachelor's Degree, a critical step towards achieving their career aspirations. By empowering the next generation of cybersecurity professionals, we are helping to create a safer, more secure digital world and inspiring positive change that will impact society for years to come.
ADMISSION REQUIREMENTS FOR BACHELOR'S DEGREE
Students requesting admission to undergraduate cyber security degree programs must:
Have earned an Associate's degree or foreign equivalent from an appropriately accredited institution listed in the International Handbook of Universities, accredited by an agency recognized by the U.S. Secretary of Education and/or the Council for Higher Education Accreditation (CHEA). OR Have completed 60+ semester credit hours (90+ quarter credit hours) or foreign equivalent from an appropriately accredited institution listed in the International Handbook of Universities, accredited by an agency recognized by the U.S. Secretary of Education and/or the Council for Higher Education Accreditation (CHEA).
Submit proof of a high school diploma or foreign equivalent.
Have completed a college-level English and Math class with a grade of C or higher.
Demonstrate proof of English proficiency.
WORLD-CLASS CERTIFICATIONS INCLUDED
Our Bachelor's program is embedded with the latest five industry-recognized, in-demand cybersecurity certifications.
HOW CAN
STUDENTS BENEFIT

FROM THIS INITIATIVE?
According to the Bureau of Labor Statistics, the demand for information security analysts, including cybersecurity professionals, is expected to grow 35% from 2021 to 2031. A Bachelor's degree program in cybersecurity provides a comprehensive understanding of the subject matter, which is essential to succeed in this in-demand field.
Cybersecurity threats are becoming more sophisticated, and cybersecurity professionals need strong critical thinking and problem-solving skills to stay ahead of these threats. According to a study by Burning Glass Technologies, 84% of cybersecurity job postings require critical thinking skills, which are developed through a Bachelor's degree program in cybersecurity.
A study by Burning Glass revealed that the number of cybersecurity job postings has grown by 94% in just six years, and cybersecurity jobs now account for 13% of all information technology jobs. Having a Bachelor's degree in cybersecurity can provide job security in this in-demand field, as many employers prefer candidates with a degree due to their deeper understanding of the field.
Pursuing a Bachelor's degree in cybersecurity provides opportunities to network with professionals in the field, which can lead to future job opportunities, mentorship, and a deeper understanding of the industry. According to a survey by Cybersecurity Ventures, 94% of cybersecurity professionals said that networking is important to their career success. The connections made while pursuing a degree can be beneficial in advancing your career.
According to CyberSeek, there will be 3.5 million job openings in cybersecurity in the United States by 2025, and many of these positions require a Bachelor's degree or higher. Having a Bachelor's degree in cybersecurity can make you a more competitive candidate for higher-level positions, such as cybersecurity manager or director.
OPPORTUNITY TO SECURE A 30% SCHOLARSHIP ON TUITION FEES
The ECCU scholarship offers students a chance to advance their education and earn a Bachelor's Degree, unlocking higher earning potential, career growth, job security, leadership opportunities, and a well-rounded education. We are committed to empowering the next generation of industry leaders through our scholarship program.
ECCU is committed to helping close the gap in the cybersecurity workforce by investing in committed students and future cybersecurity professionals.  If this sounds like the right opportunity for you, we encourage you to apply!
HOW DO I APPLY

FOR THIS SCHOLARSHIP?
SCHOLARSHIP
REVIEW AND DECISION
Terms and Conditions
01
The scholarship committee will meet to grant scholarship decisions at least 2 weeks before the term starts. All scholarship applications must be in prior to the term start date to be considered by the committee for that term.
02
Eligibility is determined by a combination of demonstrated financial, academic, and statement of purpose criteria.
03
This application implies no guarantee of a scholarship award.
04
Applicants will receive only 30% of the overall tuition fee if the scholarship is awarded.
05
This scholarship is not intended to cover all educational expenses and will be only limited to the tuition fee.
06
ECCU does not discriminate based on race, color, national origin, gender, or disability in its programs and activities.
SCHOLARSHIP
APPLICATION FORM
This application form is only for new applicants/ students seeking 1st-time enrollment with ECCU.
To be considered for admission to the university, applicants must fulfill all the relevant admission criteria and follow the established processes.
The deadline for applying for this scholarship is May 31, 2023.
This scholarship award would be granted term by term, provided students meet the ECCU catalog's requirements for satisfactory academic progress.
Failure to pay the remaining tuition fees within 14 days of scholarship grant acknowledgment will result in forfeiture of the awarded scholarship.
Scholarships awarded are non-transferable, and students must pay the difference in tuition fees within 7-10 days of receiving the invoice.
The scholarship amount will not exceed the tuition fees due for the term, year, or course duration.
EC-Council University has the sole discretion over scholarship grants.
The decision of the scholarship committee regarding the award is final. Any disputes will be subject to the university's guidelines.
Applicants must provide true and accurate information. Failure to do so will result in immediate disqualification of the application.
In the event of any misrepresentation or fraudulent submission of documents or information relevant to the scholarships, the university reserves the right to take legal action against the candidate or their guardian. They will also recover the actual fees due with an interest rate of 12 percent compounded annually.
Legal disputes, if any, are restricted to New Mexico jurisdiction only.
FREQUENTLY
ASKED QUESTIONS
Students who are:
Currently enrolled in a two-year cybersecurity or IT-related program in the U.S.
Ready to graduate, have already graduated from a community college or two-year technical institution with an Associate's Degree, or have earned a minimum of 60 transferable credit hours.
Earned their previous Associate or credits in cybersecurity OR an IT-related field.
Looking to continue their education path to pursue a Bachelor's Degree.
Submit the online application with all the required documentation to start this application process.
The duration of transitioning from an I.T. professional to a cybersecurity professional varies depending on your current skills and experience and the specific cybersecurity role you are interested in. It is important to note that many cybersecurity positions require specialized knowledge and certifications. To expedite the process, research the specific areas of cybersecurity you are interested in and pursue relevant certifications. Gaining hands-on experience through internships or entry-level cybersecurity positions can also help accelerate the transition process.
No, coding knowledge is not a prerequisite for becoming a cybersecurity professional. According to a survey by Cybersecurity Insiders, only 25% of cybersecurity professionals listed coding as a necessary job skill. However, having a basic understanding of programming languages can enhance one's ability to comprehend and analyze malicious code.
The deadline for this scholarship is 31 May.
Recipients of the scholarship will be awarded a scholarship equal to 30% of their tuition costs towards the Bachelor of Science in Cybersecurity Degree program, which also covers the cost of 5 industry-recognized certifications.