EC-Council University is accredited by Distance Education Accrediting Commission.
DEAC is a private, non-profit organization that operates as a national accreditor of distance education institutions. Accreditation by DEAC covers all distance education activities within an institution and it provides a single source of nationally recognized accreditation. DEAC is listed by the U.S. Department of Education as a nationally recognized accrediting agency as well as a acknowledged member of the Council for Higher Education Accreditation (CHEA).
Send mail to:
Distance Education Accrediting Commission
1101 17th Street NW Suite 808
Washington, DC 20036
www.deac.org
A national advocate and institutional voice for promoting academic quality through accreditation, CHEA is an association of 3,000 degree-granting colleges and universities and recognizes approximately 60 institutional and programmatic accrediting organizations.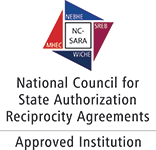 The State Authorization Reciprocity Agreement is a voluntary agreement among its member states and U.S. territories that establishes comparable national standards for interstate offering of postsecondary distance-education courses and programs. It is intended to make it easier for students to take online courses offered by postsecondary institutions based in another state.