Sanjay Bavisi
CEO, EC-Council Group & Chairman of the Board, EC-Council University, LLB (Hons), Middle Temple [United Kingdom]Mr. Bavisi is the co-founder and president of EC-Council International, Ltd., an international corporation, that is ANSI (American National Standards Institute) accredited and widely recognized for its member-based and partner-based structure and its certification of information assurance professionals around the world. In June 2013, President Bavisi was awarded the NSA 2013 Colloquium Industry Leadership Award by the National Security Agency at a conference in Mobile Bay, Alabama.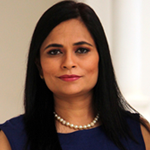 Lata Bavisi
President EC-Council University
Over a span of 20 years, Lata Bavisi has had a very exciting career with experiences in different industries across the globe. As a trained attorney, she has been able to help steer many of these organizations. These roles manifested into leadership positions which benefited the organizations greatly as she played a pivotal role to help corporate growth. She has over 15 years of experience as a member of the board of EC-Council in Asia, which is noted as one of the world's largest information security certification bodies.
The decision of joining EC Council University as the Vice President was the result of her passion for academia, and her knowledge of the educational industry was instrumental in implementing cyber security knowledge into academe, with an aim to achieve practical results in the "real world".
The diverse roles of her career have given her the skills, abilities, and experience to enable her to view the Vice President's role from three complementary perspectives: as an educator, responsible for facilitating students' growth and learning; as an "education end-user," understanding the needs of those who employ our graduates; and as a leader of an institution, understanding the need of creating an institution that exudes quality, excellence and innovation in all that it does to ensure its success.
In the Board meeting of October 2017, the Board unanimously recognized Lata's contribution in the transformation of the university and promoted her to the position of President, effective November 1, 2017.

Allan Berg
Master of Education, The American University; Bachelor of Science, Towson State UniversityDuring his twenty-five year career in the US Army, Allan Berg was involved in issues of operational and strategic intelligence, special operations, intelligence and security training and served with the Defense Intelligence Agency as liaison officer to the Supreme Headquarters Allied Powers Europe. In his second career from 1994 to 2010 Allan created, developed, managed and directed graduate programs in information security, information assurance and cyber security at Eastern Michigan University, James Madison University, the University of Dallas, Towson University and Capitol College.

  David Leasure
An innovator in online higher education, David Leasure has led online university programs, problem-based approaches to online learning, and competency-based education. He has served as provost at Western Governors University, Colorado Technical University and Jones International University. Leasure earned bachelor's, master's, and doctoral degrees in computer science and was associate professor of computer science at Texas A&M University Corpus Christi, where he turned his interests from artificial intelligence to teaching and learning with technology. Leasure led the creation of CTU Online, served as CTU's doctoral dean of computer science and later its chancellor. Leasure served as president of Jones International University. He was instrumental in cyber-security and other computer science programs at CTU and WGU. His core belief is that all students can learn and his passion is helping them and their institutions succeed.

David Oxenhandler
University of Massachusetts – Master of Business Administration. University of Connecticut – Bachelor of Science – Business
David Oxenhandler is a Management Consultant serving numerous institutions of higher education as well as representing accreditation bodies and states agencies. He is currently serving on the Board of EC-Council University and as a Commissioner and Chair on the board of the Distance Education Accrediting Commission (DEAC). He has served as an evaluator with DEAC and The Higher Learning Commission. He has served in consulting and leadership roles in higher education as: Academic Program Director for Business/Accounting at Everest University Online; President and Board Member at University of Fairfax; Chancellor, CFO/ Sr. VP, Treasurer, Board Member, Shareholder and Faculty member (MBA and MS accounting programs) at Colorado Technical University; Board member and Treasurer at Colorado School of Professional Psychology; President and Board Member of Newport International University
He has also owned/managed The Hearthstone Inn (hotel, restaurant and event center) in Colorado Springs. He served on the Board and is a shareholder, of International Gold Specialties Inc., a mining company. He began his career at Texas Instruments in Corporate Finance, International Marketing and Electronic Warfare program management roles.
His education includes an MBA from the University of Massachusetts, and a BS from the University of Connecticut. He has post-grad work in mathematics at Harvard, and all but dissertation in a Doctorate in Computer Science from Colorado Technical University.
Volunteer leadership roles have included work, board and officer positions with the American Red Cross, Boy Scouts of America, Compassus and Optum Hospices, Habitat for Humanity, religious institutions, El Paso County Fair and 4H.