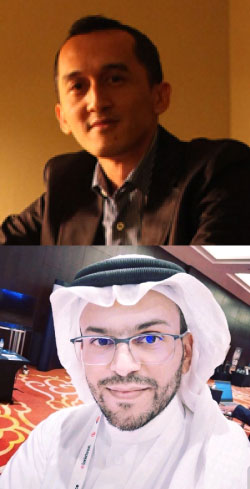 Speakers:
Belly Rachdianto, IT Security Consultant
Hamad Al Katheri, VP Enterprise Risk & InfoSec, Zain KSA
Topic: Proactive and reactive defense strategy for Network Security
Date of Webinar: 5th Feb, 2020
Time and Location: 6:30 pm IST/ 5:00 pm Dubai Time/ 3:00 pm South Africa Time
Watch Now
Speaker Bio:
Belly Rachdianto is a management and IT Consultant focusing on the area of IT / cybersecurity. With more than 20 years of working experience in computer technologies and information systems and an impressive list of IT security accreditation under his belt, Belly has worked and consulted for multinational corporations such as Dell, Microsoft, IBM, Intel, Maybank, CIMB, Shell, Cybersecurity Malaysia, Macau Police Department etc.
Hamad is an InfoSec Executive with extensive experience in delivering security to large and complex environments. His qualifications include a degree in computer engineering, knowledge in cybersecurity requirements, and detailed knowledge of security tools, technologies, and best practices. He has more than 14 years of experience and has worked in multiple positions, from Network Administration to Head of Information Security (CISO).
Topic Abstract:
While network defender primarily focuses on different defensive tools and methodologies, a SOC Analyst has a specialized focus on maintaining a reactive defense strategy. A combination of the two makes an individual capable of both proactive and reactive defense measures.
In this webinar, you will learn:
The different defensive tools and methodologies
How to create and maintain a reactive defense strategy
How the combination of proactive and reactive defense measures helps
*Examples, analysis, views and opinion shared by the speakers are personal and not endorsed by EC-Council or their respective employer(s)