Date: November 22, 2022
Time: 8. a.m. MST/5 p.m. CEST/8:30 p.m. IST
Topic: Avoiding Cyberterrorism Through Actionable Intelligence
Watch Now
Abstract: According to the United States Institute of Peace (USIP), cyberterrorism can be best defined as the combination of terrorism and cyberspace. By inciting violence or spreading fear among a target population—for example, by destroying key infrastructure, stealing sensitive information, intercepting military communications, or advancing an extremist political agenda—cyberterrorist attacks are carried out to further nefarious political or social objectives (Sheldon & Hanna, 2022; Yunos & Sulaman, 2017).
Cyberterrorism has grabbed headlines in the recent past within the information security community and government bodies. In an era of digitalization and rapid technology advancements, the havoc caused by cyber terrorists can debilitate economies, disrupt organizational infrastructure, and put national security at risk.
This webinar will discuss the measures we can take to combat cyber terrorism and avoid their serious consequences. Participants will learn how to collect, assess, and share actionable intelligence to prevent security threats.
Key takeaways:
How serious is cyberterrorism in 2022?
What steps can be taken to manage vulnerabilities and thwart cyberattacks?
Why is threat intelligence important to counter cyberterrorism?
Speaker: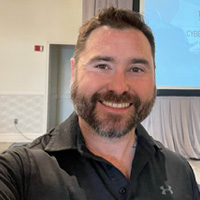 Ricoh Danielson, Vice President and Chief Information Security Officer
Bio: Ricoh Danielson is information security and digital forensics professional with over 15 years of expertise managing incident response and digital forensics matters for domestic and international clients. He is experienced in handling cyber breaches, security incidents, and digital forensics in the healthcare, financial, and retail spaces. Ricoh has partnered with law firms, government agencies, and private clients to provide digital forensics services for high-profile and newsworthy cyber incidents. In addition to being a cybersecurity professional, he is a U.S. Army combat veteran.
References:
Sheldon, R. & Hanna, K. (2022). Definition: cyberterrorism. Tech Target.
https://www.techtarget.com/searchsecurity/definition/cyberterrorism
Yunos, Z. & Sulaman, S. (2017). Understanding cyber terrorism from motivational perspectives. Journal of Information Warfare, 16(4), 1–13. https://www.jstor.org/stable/26504114
*Examples, analysis, views and opinion shared by the speakers are personal and not endorsed by EC-Council or their respective employer(s)