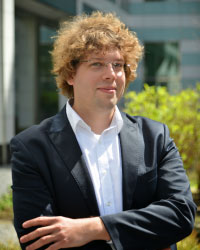 Speaker Bart Kulach,
Designation: Head of Technology (former CISO) of NN Life Japan
Topic: Online Education: Is it the Future of Cybersecurity Learning?
Date of Webinar: 20th Aug, 2020
Time and Location: 4:30 PM JST/ 1.00 PM IST/8.30 AM BST
Watch Now
Speaker Bio:
Bart is a hands-on technology and security leader with 16+ years in a progressive career, including 13+ years of experience in the financial industry in various IT, security, risk and audit functions. Throughout his career he has been successfully exercising a strong passion for security and IT craftmanship by advising senior management on or leading complex infrastructure, outsourcing and security projects; building, engaging and mentoring international and multi-cultural teams; managing external vendors and offshore partners, implementing security solutions, overseeing red teaming activities, forensic investigations and IT audits.
Next to his current professional activities, his personal security track includes vulnerability research, coaching, and speaking on various international hacking and security/risk conferences and congresses.
Topic Abstract:
Cybersecurity has become the most in-demand career option, especially in a time when cybercrime has become the biggest threat to industries and economies across the globe, especially the financial industry.
Students are taking up this profession to excel in their careers. However, with the recent pandemic, the question of whether they should opt to study online or risk in-person classes, or even worse, give up a year altogether, has left many students confused.
In this webinar, Bart will talk about the future of the cybersecurity industry, his journey in cybersecurity, especially in the financial industry, what talents the financial industry is looking for, why the pandemic has not left cybersecurity professionals scouring for jobs in the financial industry, and how online learning is here to stay!
Key takeaways:
Why online education in cybersecurity is the new normal.
How to build an ideal resume and crack interviews.
Discipline and norms to understand while studying.
Advantages of online education in cybersecurity and why you need this
What skill-sets are "hot on the market" and how to become job-ready
Ideas and areas to consider for further study and research
*Examples, analysis, views and opinion shared by the speakers are personal and not endorsed by EC-Council or their respective employer(s)