Date: October 26, 2023
Time: 12:30 PM WEST | 7:30 AM EDT | 1:30 PM CEST | 5:00 PM IST
Topic: Bad, Good, and Best Password Practices: Preventing Dictionary-Based Attacks
Watch Now
Abstract: In the threat landscape, gaining access to applications, accounts, and credentials has been at the core of any access control-based threats. The battle against dictionary-based attacks is a constant struggle and revolves around implementing password protection practices. While credential-based access to accounts and applications is the norm today, effective authentication management and awareness are lacking. Many users utilize weak passwords or reuse simple passwords for multiple accounts, which act as a low-hanging fruit for hackers, who can use automated tools to crack them swiftly. As part of effective authentication and access control management, a multi-layered approach to create stronger credentials and access control is necessary, along with security awareness for bad, good, and best password protection practices. As hackers become more sophisticated, employing the best password protection practices is crucial against dictionary-based attacks. The current webinar discusses the security protocols, policies, and best practices for users and organizations to safeguard sensitive information and digital assets effectively.
Key takeaways:
the impacts of dictionary-based attacks on information systems
the need for credential protection policies
understanding bad, good, and best password protection
best practices for password protection
building a robust credential management and protection framework
Speaker: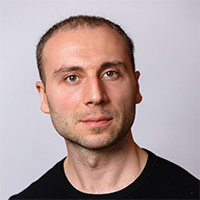 Sergey Chubarov, Security Expert
Bio: Sergey Chubarov is a security and cloud expert and instructor with more than 15 years of experience in Microsoft technologies.
His day-to-day job is to help companies securely embrace cloud technologies. He has certifications and recognitions such as Microsoft MVP: Security, OSCP, OSEP, eCPPT, eCPTX, Microsoft Certified Trainer, MCT Regional Lead, EC Council's C|EH, C|PENT, L|PT, C|CSE, C|EI, CREST C|PSA, C|RT and more.
Sergey often speaks at local and international conferences like Global Azure, DEF CON, Black Hat Europe, Wild West Hackin' Fest, Security BSides, Workplace Ninja, Midwest Management Summit, Hack in the Box, etc.
*Examples, analysis, views and opinion shared by the speakers are personal and not endorsed by EC-Council or their respective employer(s)