Amidst the tapestry of humanity's narratives stands Noorul Ameen's tale—a testament to courage and achievement.
As we unveil the pages of our Cyber Security Success Stories, Noorul Ameen emerges as a guiding light, illuminating paths of triumph in cybersecurity.
Within the rapidly evolving realm of cybersecurity, where digital threats loom large and attacks grow increasingly sophisticated, Noorul Ameen stands out as a guiding force at the forefront of BeyonCyber's Cyber Defense Center in Bahrain. With a remarkable 14-year track record in the field, his journey underscores the concrete impact of continuous learning, unwavering commitment, and the pursuit of knowledge. In an industry where cybercrime is projected to cost the world trillions annually, Noorul's narrative resonates as a testament to the practical value of resilience and education in the face of escalating challenges.
Noorul Ameen's narrative radiates the profound impact of the unyielding effort.
This is the tale where hard work forges the path to triumph.
In this edition of Cyber Security Success Stories, we cast our spotlight on Noorul Ameen, a leader whose journey has indelibly impacted the industry. Driven by an unyielding commitment to fortify digital realms, Noorul Ameen's trajectory toward success has been steered by his unparalleled expertise and fervor for safeguarding critical systems. As we explore his experiences, we witness the seamless amalgamation of resilience, knowledge, and entrepreneurial zeal that has propelled him to the forefront of the cybersecurity landscape. Join us in unveiling the narrative of this visionary leader whose story stands as a testament to the transformational force driving the future of cybersecurity.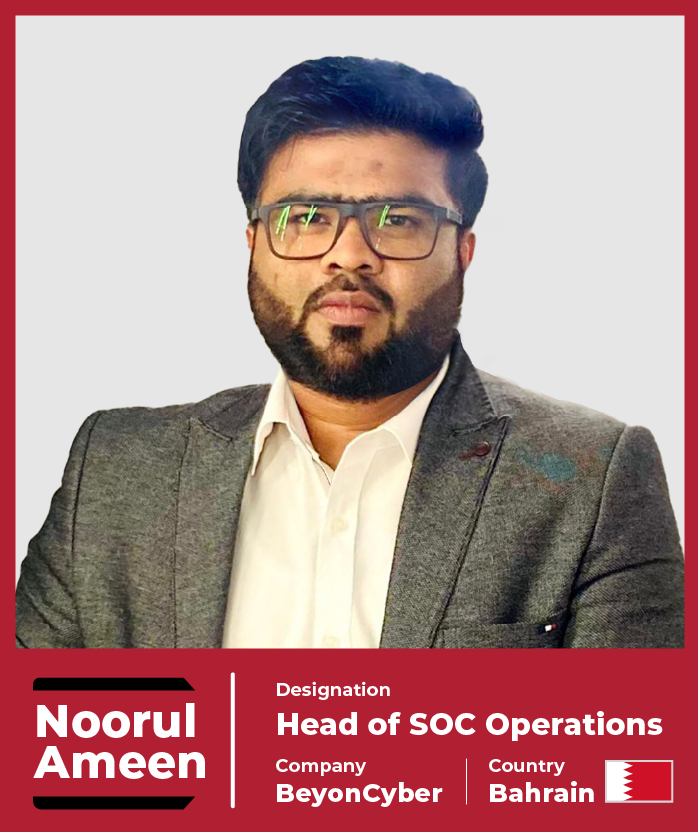 A Legacy of Expertise and Ambition:
Noorul's journey began as a cyber delivery specialist at IBM. Little did he know that this initial step would pave the way for a remarkable climb through the ranks of cybersecurity. He accumulated a wealth of experience and multiple certifications, solidifying his expertise with every stride. However, Noorul realized that certifications, while valuable, often come with the looming need for renewal. This realization sparked his quest for a program that would provide knowledge and lasting relevance.
Choosing a Path of Perpetual Growth:
Two years ago, Noorul made a decision that would reshape his career's trajectory. Driven by a desire for knowledge, he embarked on a journey to attain a master's degree. EC-Council University stood out as a beacon of excellence among the academic options. Having been acquainted with EC-Council (our parent organization) for over a decade, mainly through their renowned ethical hacking courses, Noorul felt drawn to the institution's expertise in the cybersecurity domain.
I aimed to secure an academic endeavor with lasting relevance, one that would provide continuous career support throughout my professional journey. This led me to the decision of pursuing a master's degree. My excitement peaked upon discovering that EC-Council University offers a master's program embedded with industry certifications.
— Noorul Ameen
Embracing EC-Council University's Holistic Curriculum:
What drew Noorul to EC-Council University was the comprehensive curriculum that seamlessly blended domain expertise, leadership acumen, and contemporary courses. A harmonious mix of subjects, including leadership quality and quantum leadership, spoke directly to his aspirations of becoming a visionary leader. Notably, the "Intro to Research and Writing for IT Professionals" course equipped him with a research-oriented mindset—an invaluable asset in approaching challenges.
Unveiling a State-of-the-Art Learning Portal:
EC-Council University's Canvas portal became a virtual treasure trove for Noorul, housing materials, details, and direct access to lab exercises. Integrating theoretical learning with hands-on experience resonated deeply with Noorul's belief in the practical application of knowledge. This fusion of theory and practice enhanced his understanding and nurtured his proficiency, effectively bridging the gap between academic learning and real-world implementation.
Many of you are likely familiar with EC-Council due to the Ethical Hacking courses. For those interested in a cybersecurity career, the first piece of advice often revolves around taking an ethical hacking course from EC-Council. It's become a common and trusted starting point recommended by professionals in the field.
— Noorul Ameen
The Key to Transformation:
The journey within EC-Council University's program was marked by interactive engagement. Dynamic discussions, focused weekly topics, and stimulating challenges propelled Noorul's growth. Firm in believing consistency and commitment pave the path to achievement, he found EC-Council University's structured approach exemplary. With well-defined weekly targets, paper submissions, labs, and interactive discussions, the program embodied the essence of continuous and structured training.
An Investment with Profound Returns:
Noorul's investment in EC-Council University proved to be a pivotal juncture in his professional journey. The rewards were tangible—skill refinement, career acceleration, and a palpable sense of value. The transformative outcomes were so profound that Noorul now contemplates pursuing a Ph.D., a testament to the far-reaching influence of his educational voyage.
Guiding Others Towards Excellence:
As Noorul's inspiring narrative draws to a close, he extends a hand of encouragement to those considering a similar path. With unwavering conviction, he asserts that EC-Council University is a prolific ground for holistic growth and education. His journey resonates as a guiding light, reinforcing the indomitable power of dedication, commitment, and the profound impact of education in cybersecurity's ever-evolving landscape.
In Noorul's footsteps, one finds the echoes of a resounding truth: in cybersecurity, knowledge is the catalyst for transformation, and education is the compass that navigates one toward a future of limitless possibilities.
Just as Devin's journey has illuminated the transformative potential of education and dedication, Noorul's story serves as a guiding beacon for those contemplating the path of cybersecurity excellence. To all considering EC-Council University, Noorul's words resound: seize the program's opportunities. Embrace the wealth of knowledge, skills, and certifications it presents, and be poised to unlock new possibilities in your professional journey. EC-Council University stands unwavering as your steadfast ally in becoming a cybersecurity professional who leaves an enduring impact on the industry.