We all have a story, a narrative to inspire ourselves or to help us conquer our most dreaded fears. Today's story features Devin Acosta, who leads our very first installment of the Cyber Security Success Stories series.
In today's vast and ever-expanding digital landscape, the importance of cyber security cannot be overstated. As technology continues to advance rapidly, so does the sophistication and frequency of cyber threats. In this dynamic environment, the realm of cyber security offers boundless opportunities for those with a passion for protecting and securing our interconnected world. It is within this sphere that Devin Acosta, a Linux systems architect and cyber security engineer, embarked on a journey that would lead to extraordinary accomplishments. His story is a testament to the transformative power of education, resilience, and seizing the opportunities that the cyber security domain presents.
This is how hard work leads a man's way to success.
Meet Devin: The First Person in His Family to Graduate
In our very first installment of Cyber Security Success Stories, we delve into the remarkable journey of Devin Acosta, a professional who has left an indelible mark on the industry. With an unwavering commitment to protecting digital landscapes, Acosta's path to success has been driven by his expertise and passion for safeguarding critical systems. As we explore his experiences, we witness the fusion of resilience, knowledge, and entrepreneurial spirit that has propelled him to the forefront of cyber security. Join us as we uncover the transformative story of a visionary leader who continues to shape the future of cyber security.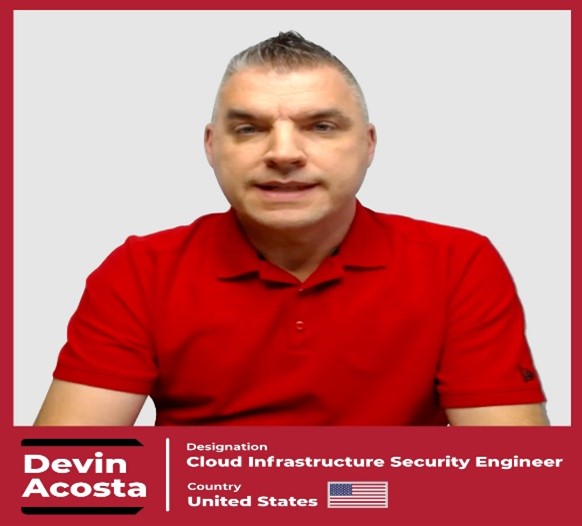 A Journey of Growth and Determination
Devin Acosta's journey from a Linux administrator to a cybersecurity professional has been characterized by continuous growth and unwavering determination. Working with multiple internet service providers, he witnessed constant threats and breaches targeting Linux systems. This propelled him to focus more on cyber security, as he realized the crucial role of protecting and defending these systems. The natural progression for Devin was to pursue a Bachelor of Science in Cyber Security with EC-Council University, a decision that elevated his skills and helped him gain greater confidence.
EC-Council University's Program: An Opportunity for Advancement
Devin was captivated by the remarkable features he found in the bachelor's program at EC-Council University. The program allowed for a generous transfer of credits and IT certifications, significantly reducing the time and financial commitment required to obtain a degree. Moreover, graduating with a bachelor's degree from EC-Council University meant that Devin could enter the job market with a valuable set of five to six cybersecurity certifications. This comprehensive package made Devin an attractive candidate in the eyes of employers, setting him apart from other applicants.
With EC-Council University, I gained not only a degree but also a powerful arsenal of cyber security certifications, making me a standout candidate in the job market.
–Devin Acosta
Empowering Success in the Cyber Security Field
The degree from EC-Council University became a catalyst for Devin's career success. It not only equipped him with new skills but also enhanced his confidence and competence. This increased proficiency allowed him to discuss cybersecurity topics with assurance and expertise. As Devin explores new opportunities in the cyber security field, he recognizes the significance of a bachelor's degree or higher when applying to positions that demand advanced qualifications.
Recognized and Valued Credentials
In today's economy, a bachelor's degree in cyber security is highly recognized and valued. Many cyber security positions, particularly those offering higher salary ranges, require several certifications and a bachelor's or master's degree. Therefore, having a bachelor's degree has become a necessity for obtaining lucrative positions in the industry. Devin is confident that his degree will provide him with a competitive edge over other applicants in future job transitions.
Personal and Professional Impact
EC-Council University is not just a degree: it's a transformative experience that equips you with the skills and qualifications to make a real impact in the cybersecurity industry.
–Devin Acosta
Devin's journey and accomplishments have had profound personal and professional impacts. As the first person in his family to earn a college degree, obtaining his bachelor's degree is a significant achievement. It has not only bolstered his confidence in his skills and abilities but also empowered him to educate others on the importance of securing networks and systems from cybersecurity attacks. Devin's story serves as an inspiration for others, showcasing the transformative power of education and dedication to achieving remarkable milestones.
The Experience and Flexibility of iLabs
One of the standout features of attending EC-Council University was having access to iLabs during the courses. This virtual environment provided an immersive experience, allowing Devin to practice and apply his cybersecurity knowledge directly. Furthermore, EC-Council University's program offered flexibility that aligned well with Devin's full-time job. The ability to work on coursework at his own pace within set deadlines provided him with the necessary balance to excel in both his studies and professional responsibilities.
Gratitude and Acknowledgment
Devin attributes a significant part of his success to EC-Council University. The generous transfer credits offered by the institution played a crucial role in his ability to complete the program and achieve his goals. He applauds EC-Council University for its support and generosity in this regard, recognizing the impact it had on his journey.
A Testament to EC-Council University's Impact:
Devin's success story is a testament to the transformative impact of EC-Council University's cyber security program. It highlights the opportunities for growth, the recognition received in the industry, and the personal and professional impact experienced by graduates. EC-Council University's commitment to providing comprehensive education, valuable certifications, flexibility, and support has played a pivotal role in empowering individuals like Devin to excel in the dynamic field of cybersecurity.
To delve deeper into Devin's remarkable journey and gain valuable insights from his experiences, watch the inspiring YouTube video here:
For those considering EC-Council University, Devin's message is clear: Take advantage of the opportunities provided by the program. Embrace the knowledge, skills, and certifications it offers, and be prepared to unlock new doors in your career. EC-Council University stands as a supportive partner in your journey to become a cybersecurity professional and make a lasting impact in the industry.