We all have the power to script our own stories, conquer our fears, and inspire others. Join us as we uncover the inspiring journey of Kristen Sanders, a visionary in the world of cyber security.

In the dynamic world of cyber security, professionals like Kristen Sanders continuously strive to expand their knowledge and skills to stay ahead of evolving threats. Kristen's journey led her to EC-Council University, where she harnessed the power of certifications and a flexible educational approach to enhance her career prospects. This is the inspiring success story of Kristen Sanders, a passionate cyber security expert who found her path to growth and success through EC-Council University.
Forging Success through Hard Work and Dedication:
The Inspiring Cyber Security Journey of Kristen Sanders
In our ongoing series of Cyber Security Success Stories, we embark on the remarkable journey of Kristen Sanders. Driven by her unwavering dedication to fortifying digital landscapes, Sanders has emerged as a force to be reckoned with, combining her expertise and passion to ensure robust cyber security measures. As we delve into her experiences, we witness the fusion of determination, expertise, and an unwavering commitment that has propelled her to the forefront of the cyber security field. Join us as we unravel the captivating story of Kristen Sanders, a true inspiration in shaping the future of cyber security.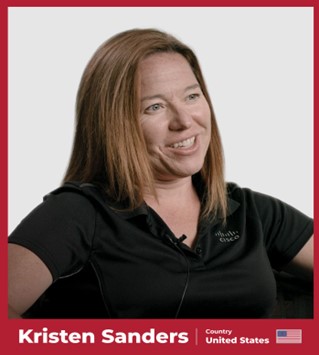 Discovering EC-Council University's Potential
Kristen first became acquainted with EC-Council University when she attended the Certified Chief Information Security Officer (C|CISO) boot camp at the EC-Council building. Having previously pursued the Certified Ethical Hacker (C|EH) program, Kristen recognized the quality of EC-Council's courses and was eager to continue her educational journey with the prestigious C|CISO certification. What intrigued her further was EC-Council University's unique offering: the ability to transfer certifications into valuable course credits.
Streamlined Admissions and Seamless Transition
Kristen found the admissions process at EC-Council University to be straightforward and efficient. With the requirement of submitting certifications and college transcripts, the university ensured a streamlined experience for prospective students like Kristen. This seamless transition set the stage for her academic journey at EC-Council University.
Flexibility in the Face of Challenges
During her time as a student, Kristen discovered EC-Council University's unwavering commitment to flexibility—a quality that proved invaluable, especially during the unprecedented times of the pandemic. With the university's online program, Kristen experienced uninterrupted learning while her peers in traditional in-person colleges faced significant disruptions. This flexibility also allowed her to adapt her coursework to the evenings, ensuring a healthy work-life balance and quality time with her family.
Leveraging Certifications for Advanced Degrees
Kristen understood the importance of a master's degree for her role as a Certified Chief Information Security Officer (C|CISO). EC-Council University empowered her to fast-track her educational journey by applying her existing certifications as credit toward her master's degree. This recognition enabled Kristen to achieve her educational goals efficiently and positioned her as a qualified professional in the cyber security field.
With EC-Council University's recognition of my existing certifications, I could fast-track my educational journey and obtain my master's degree as a C|CISO much faster.
–Kristen Sanders
Supportive Staff and Faculty
Throughout her experience, Kristen found the staff and instructors at EC-Council University to be responsive and supportive. Whenever she encountered any challenges or had inquiries, the faculty promptly addressed her concerns. This dedicated support system further solidified Kristen's trust in EC-Council University as a reliable educational institution.
The supportive staff and instructors at EC-Council University were always responsive, addressing any concerns promptly and making my educational experience smooth and enjoyable.
–Kristen Sanders
A Strong Recommendation
Impressed by her experience, Kristen wholeheartedly recommends EC-Council University to colleagues, friends, and family members, particularly those with industry certifications. The university's recognition of certifications and commitment to delivering valuable education make it an ideal choice for individuals seeking to advance their careers in the cyber security domain.
Gain inspiration from Kristen's remarkable journey and valuable insights as she shares her experiences in this empowering YouTube video:
Kristen Sanders' success story exemplifies the transformative impact of EC-Council University. The university empowers aspiring cyber security professionals to unlock their full potential through its flexible programs, recognition of certifications, and unwavering support. Kristen's journey stands as an inspiration, demonstrating the power of determination, educational excellence, and the opportunities that await those who embark on the path of cyber security education with EC-Council University.