In the bustling corridors of the United Nations Headquarters, Robert Samupindi's journey stands as a testament to education's power and the indomitable spirit that propels us forward.
From the streets of Zimbabwe to the global stage of cyber security, his story reminds us that with dedication and ambition, there are no limits to what one can achieve.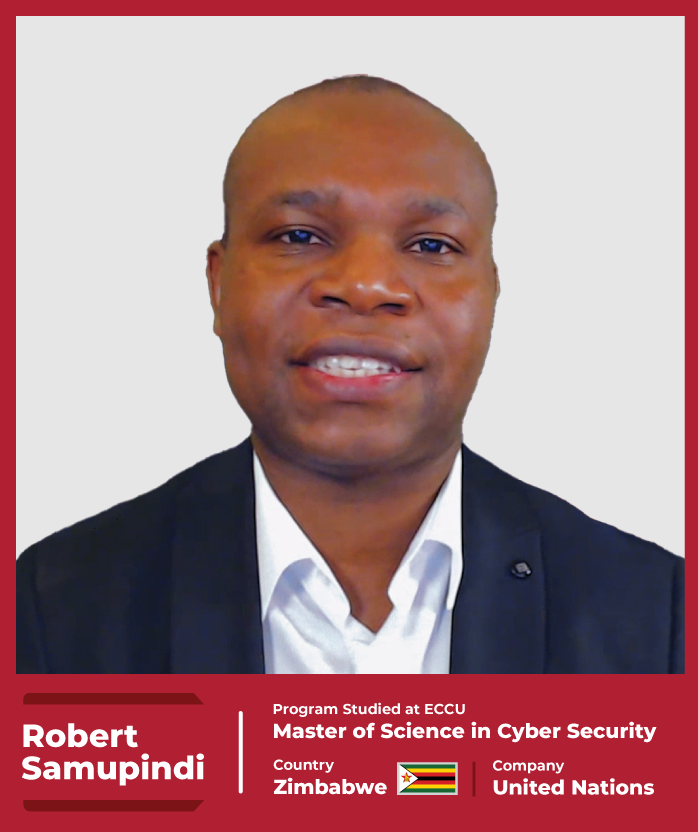 The Beginning Of A Vision
Hailing from the heart of Africa, Robert's passion for technology and data management ignited at a young age, despite a scarcity of resources during his upbringing. Nevertheless, with a zest for knowledge and an unquenchable thirst for advancement, Robert embarked on a journey that would take him from the streets of his homeland to the pinnacle of global cyber security expertise.
Discovering His Potential With EC-Council University
In the digital age, education knows no boundaries, and Robert's discovery of EC-Council University's Bachelor of Science in Cyber Security degree program was a game-changer. What caught his attention was the unique opportunity to balance work, family, and studies simultaneously. This groundbreaking approach allowed Robert to finance his education while maintaining his work commitments and family responsibilities.
The Bachelor of Science in Cyber Security degree from EC-Council University has really placed me on a pedestal that is way higher than where I was coming from. I mean, growing up in Africa, where we hardly had access to computers, let alone to the internet, I grew up really having the passion to work hard, and to achieve things.
Robert Samupindi
How Did He Balance the Whole Process?
Earning a degree while managing a full-time job and family life is no small feat. However, Robert's unwavering dedication and disciplined approach set him on a path to success. Devoting his evenings and weekends to intensive studies, he carved out precious hours to absorb the knowledge that would propel him to new heights. Studying and working simultaneously can be challenging, but he focused on becoming a cyber security professional and had a dedicated time schedule for everything he had prioritized in his life.
I had to dedicate time every night, at least two hours where I'd study, take my assignments, do my labs, as well as communicate with some of my classmates as well as faculty. That discipline allowed me to complete my program as well as pass all my courses.
Robert Samupindi
A Glimpse of His Transformative Journey
Robert's journey wasn't just about accumulating knowledge but about transforming himself into a cyber security expert. The Bachelor of Science in Cyber Security from EC-Council University armed him with theoretical insights and practical skills that would shape his role in data pipelines, information management, and data analytics. This newfound expertise laid the foundation for his invaluable contributions to the United Nations.
When I graduated with a bachelor's degree in cyber security and added that certificate to our work platform, this really caught the attention of senior managers. And this allowed me to get promoted and elevated to work with a team that's focusing on crisis management, information management, and data security at the United Nations Headquarters in New York. So that, to me, is all attributed to the degree from EC-Council University.
Robert Samupindi
Recognition and Rise
The transformation didn't go unnoticed. Robert's added cyber security credential caught the discerning eyes of senior managers. Their recognition led to an upward trajectory in his career, thrusting him into a role focused on crisis management, information management, and data security at the United Nations Headquarters. The EC-Council University's degree became a symbol of his commitment, expertise, and potential.
The Bachelor of Science in Cyber Security degree from EC-Council University is highly recognized by the United Nations, as well as within the non-profit sector where a lot of organizations, that are working on governance issues, human rights, as well as climate change and across other pillars, are really valuing the aspects of data and data protection.
Robert Samupindi
Making an Impact and Giving Back
Beyond personal advancement, Robert's journey fostered a desire to give back to the community. He launched "Cyber Hondo," a YouTube channel aimed at simplifying cyber security concepts for a global audience. Covering issues from personal privacy to data protection and cyber bullying, Robert's channel became a beacon of awareness and empowerment, helping individuals navigate the digital world confidently.
Ratings and Acknowledgments
Reflecting on his transformative journey, Robert extends his gratitude to EC-Council University. With faculty expertise ranked at 9 out of 10 and course curriculum quality rated similarly high, the program laid a solid foundation for his success. The responsiveness of the staff, engaging faculty, and smooth onboarding process further fueled his positive experience.
The Bachelor of Science in Cyber Security degree from EC-Council University really gave me enough theoretical as well as practical knowledge to be able to be an effective cyber security professional within my domain.
Robert Samupindi
Robert's journey from Zimbabwe to the United Nations encapsulates the power of education, dedication, and the boundless opportunities in the realm of cyber security. Through hard work, sacrifice, and the guidance of EC-Council University, he realized his dreams and paved the way for others to follow suit. As Robert continues to shape the cyber security landscape, his story serves as a beacon of hope for those who dare to dream big and embrace the transformative potential of education.
For a closer look at Robert's remarkable journey and to gain valuable insights from his experiences, watch his inspiring story on YouTube:
If you're considering EC-Council University, Robert's advice rings true: harness the EC-Council University's Bachelor of Science in Cyber Security degree program offerings to your advantage. Embrace the wealth of knowledge, invaluable skills, and esteemed certifications it provides, positioning yourself to unlock doors to new career horizons. With EC-Council University as your steadfast companion, you're poised to journey towards cyber security expertise and create a substantial mark within the industry.