Date: May 19, 2022
Time: 9 a.m. CDT/5 p.m. EAT/7:30 p.m. IST
Topic: Threat Intelligence: Moving Towards Cyber Resilience in 2022
Watch Now
Abstract:
The COVID-19 pandemic forced businesses to accelerate their adoption of digital technologies, paving the way for malicious actors to target the critical IT infrastructures of enterprises, government, and healthcare providers. The ever-evolving threat landscape means that addressing the risk of a cyberattack is now a question of not "if" but "when." Detecting and mitigating threats and patching vulnerabilities is no longer enough; organizations today must implement measures that proactively anticipate attacks.
Cyber resilience is more important than ever, and the responsibility for ensuring security hygiene lies not just with cybersecurity teams and security operations centers but with each employee. Awareness is an organization's greatest defense. This webinar will discuss why organizations need to build cyber resilience strategies and how to leverage threat intelligence to ensure business continuity and minimize the impact of cyberattacks.
Key takeaways:
Why we need cyber resilience more than cybersecurity in 2022
The role of threat intelligence in cyber resilience
How to measure cyber resilience
Speaker: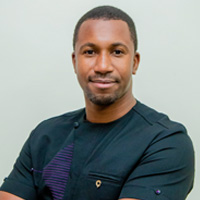 Dr. Bright G. Mawudor, Chief Technology Officer at Xetova
Bio: Dr. Bright G. Mawudor, Chief Technology Officer at Xetova, is the founder of the cybersecurity collective AfricaHackon, the first-ever live demonstration cybersecurity conference in East and Central Africa. He holds a Ph.D. in IT convergence and application engineering with a focus on information security from Pukyong National University, South Korea.
Dr. Mawudor has over 10 years of experience in the cybersecurity industry, with strong expertise in cybersecurity strategy building, resilience, and system penetration testing. Technically proficient and skilled in the cybersecurity space, he is a team player and outstanding leader who has successfully implemented IT security systems to curb and mitigate risks.
In addition to presenting at over 150 cybersecurity conferences, Dr. Mawudor has been recognized by Tribe of Hackers Blue Team 2020, was named one of Kenya's Top 40 Under 40 by Business Daily, and has led cybersecurity projects at Dimension Data, Cellulant, and Ushahidi.
*Examples, analysis, views and opinion shared by the speakers are personal and not endorsed by EC-Council or their respective employer(s)