Date: May 27, 2022
Time: 10 a.m. EDT/3 p.m. BST/7:30 p.m. IST
Topic: Cyberthreat Hunting and Intelligence in Internet of Things (IoT) Environments
Watch Now
Abstract:
Cybersecurity is a never-ending fight. As security professionals develop advanced strategies to stop one attack, malicious hackers invent more sophisticated tactics for penetrating networks and covertly stealing confidential data. Cyberthreat hunting and cyberthreat intelligence are emerging fields in cybersecurity. Security experts employ these practices to identify patterns of suspicious activity and thwart potential threats.
Due to the shortcomings of traditional security measures in protecting Internet of Things (IoT) devices, many organizations are turning to artificial intelligence (AI) techniques, such as machine learning classification, for attack detection. This webinar will delve into AI techniques for threat hunting and threat intelligence in IoT environments and why they are an important part of any defense posture.
Key takeaways:
Why traditional security defense mechanisms are not suitable for protecting IoT environments
How to identify vulnerabilities that change organizational risk profile in an IoT environment
How AI techniques can be leveraged for cyberthreat hunting in IoT environments
Speaker: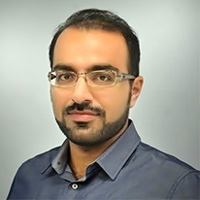 Ali Dehghantanha, Canada Research Chair in Cybersecurity and Threat Intelligence, University of Guelph
Bio: Dr. Ali Dehghantanha is an academic entrepreneur in cybersecurity and Canada Research Chair in Cybersecurity and Threat Intelligence at the University of Guelph, Ontario, Canada. He is the director of the Cyber Science Lab and the founder and director of the Master of Cybersecurity and Threat Intelligence program at the University of Guelph.
*Examples, analysis, views and opinion shared by the speakers are personal and not endorsed by EC-Council or their respective employer(s)