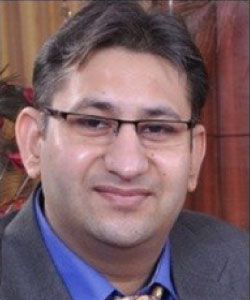 Speaker Puneet Mehta,
Designation: Chief Technologist & Principal Advisor, Global Advisory Services at SDG Corporation
Topic: The Best Way to Stop Social Engineering Scams with AI
Date of Webinar: 15th May, 2020
Time and Location: 2:30 pm IST/ 5 pm SGT/ 9.00 am GMT
Watch Now
Speaker Bio:
Puneet is a Researcher, Author, Speaker, and Cybersecurity Evangelist. He has over 22 years of experience in diverse technical, leadership, advisory, and product development positions focusing around cybersecurity & risk for global Fortune 500 clients. He is a trusted advisor in cyber defense strategy, designing, building, and operating large scale and cutting-edge security platforms in complex and fast-paced environments. He is an expert in establishing and directing security and technology operations, projects, programs, and initiatives. His area of expertise includes cyber defense strategy, red teaming/penetration testing, threat hunting & intelligence, cyber incident handling & response, digital forensics, cyber risk management, and more.
Topic Abstract:
Social engineering is on the rise, and organizations need to respond to it appropriately. Humans are usually the weakest factor in maintaining social security. That's why smart hackers target humans, not machines. As we know, social engineering attacks are rapidly increasing in today's networks and are weakening the cybersecurity chain due to the advancement of digital communication technology. While organizations try to prevent those exploitations, many attackers are still able to overcome security countermeasures using artificial intelligence (AI) techniques.
Social engineering attacks don't necessarily involve technology; it could be as simple as engaging in a conversation and exploiting human nature. The attacker aims to fool individuals or enterprises into accomplishing actions that result in them acquiring confidential data. Attacks like these are mainly targeted toward the banking sector and other high-value entities.
This webinar will discuss social engineering attacks and how to combat them using AI. We will dive into the shadowy world of weaponized AI to find out how we can prevent social engineering attacks. This webinar also aims to demonstrate the applicability and effectiveness of these AI techniques in the present scenario. The consensus is that soon without AI, organizations will not be able to protect their digital assets.
*Examples, analysis, views and opinion shared by the speakers are personal and not endorsed by EC-Council or their respective employer(s)