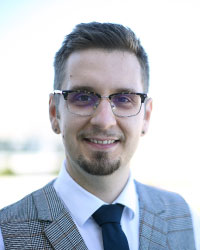 Speaker: Tino Šokić ,
Designation: Information Security Professional (Not just another security guy)
Topic: Information Security for Everyone – Where to Start with the Basics?
Date of Webinar: 28th July, 2021
Time and Location: 2.00pm Croatia time
Watch Now
Speaker Bio:
Tino Šokić is an Information Security and Privacy professional who has been in IT waters for over ten years. Having attended law school and being certified in various fields of IT, Tino has developed a great affection for Information Security and Privacy, as well as all the technologies that surround us and the possibilities they give us. Tino has worked for one of the largest Croatian highway management companies as a network and security engineer, where he offered insights into the technical aspects of IT processes. As an instructor on EC-Council's CodeRed platform, he is familiar with end-user needs and necessities in terms of security education. He is a frequent guest speaker at various seminars and cyber conferences, where he provides directly applicable knowledge presented through practical examples and hands-on experience.
Topic Abstract:
Nowdays we can feel free to say that that every company is an IT company and that (almost) every person is an IT person In this webinar, we will try to go through the ins and outs of Information Security as a concept that is meant to protect our assets by going through Tino's client experience right from starting out as a technician in the field of IT and moving all the way up to working as a cyber trainer and instructor.
Key takeaways:
Difference between Information Security and Cybersecurity.
How to get hands-on experience in IT?
Tino's Client Experience.
Tips on how to get recognized as an IT/Security Professional.
Learn about the new course for beginners concerning Information Security on CodeRed.
The value of knowledge on-demand.
*Examples, analysis, views and opinion shared by the speakers are personal and not endorsed by EC-Council or their respective employer(s)