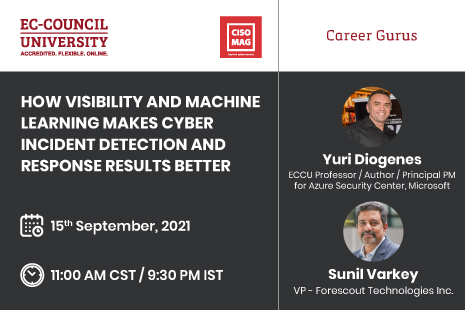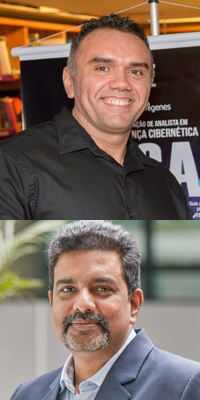 Speakers:
Yuri Diogenes, ECCU Professor / Author / Principal PM for Azure Security Center, Microsoft
Sunil Varkey, VP – Forescout Technologies Inc.
Topic: How Visibility and Machine Learning Makes Cyber Incident Detection and Response Results Better
Date of Webinar: 15th September, 2021
Time and Location: 11:00 AM CST/ 9:30 PM IST
Watch Now
Speaker Bio:
Yuri Diogenes ECCU Professor / Author / Principal PM for Azure Security Center, Microsoft
Yuri Diogenes has a Master of Science in cybersecurity intelligence and forensics investigation from UTICA College. He is the Principal Program Manager for the Microsoft CxE Security team for Azure Security Center and Azure Defender. Yuri has been working for Microsoft since 2006 and has spent five years as a Senior Support Escalation Engineer for the CSS Forefront Edge team. From 2011 to 2017, he worked for the content development team where he also helped create the Azure Security Center content experience since its launch in 2016. Yuri has published a total of 26 books, mostly covering information security and Microsoft technologies. Yuri also holds an MBA and many IT and security industry certifications, such as CISSP, E|CND, E|CEH, E|CSA, E|CHFI, CompTIA Security+, CySA+, Mobility+, Network+, CASP, CyberSec First Responder, MCSE and MCTS. You can follow Yuri on Twitter at @yuridiog
Sunil Varkey VP Forescout Technologies Inc.
Sunil Varkey has over 25 years of security leadership experience with large global corporates in banking, telecoms, ITES, software, and manufacturing.
Sunil is Forescout CTO for its EMEA & APJ region involved in security strategy, innovation and stakeholder engagements. Before this he led Cybersecurity Assessment and Testing for HSBC. He has also worked with Symantec as CTO and Strategist, Wipro as Global CISO and Fellow, as Head of Security and Privacy at Idea Cellular, and in GE, Barclays and SABB.
Academically, he holds a bachelor's degree in electronics engineering with an MBA. He is also CISSP, CIPP/US, GSNA, CISA, CGEIT, CRISC, SCF, ABCP, ITIL- V2 manager and Six Sigma GB certified.
He has participated in various advisory forums globally, publishing and presenting various articles related to the information assurance domain. He has filed for multiple patent applications on information security that are currently under consideration.
Topic Abstract:
Abstract: Incident Response and SOC team members get thousands of security alerts every day. Keeping track of every notification manually is impossible as the resources required are cost prohibitive. If these problems discourage you from implementing incident response in your organization, here is something worth considering. Machine learning streamlines the cyber incident detection and response process, making the results more accurate with much less manual work. Through its algorithms, you can also observe and detect anomalies that may indicate a cyberattack attempt. It is essential to know about the advantages of machine learning in today's challenging cybersecurity landscape.
Join us for our webinar where we will address incident detection and response process issues and how machine learning can solve them. The discussion will also focus on career opportunities for professionals who wish to pursue incident response as a career.
Key Takeaways:
Common incident response detection and response challenges
Streamlining incident response problems with machine learning and control orchestration
Career scope and opportunities for new students and professionals who would like to transit into this sector.
Why an advanced degree in cybersecurity is beneficial to climbing the corporate ladder
*Examples, analysis, views and opinion shared by the speakers are personal and not endorsed by EC-Council or their respective employer(s)