Date: April 29, 2022
Time: 9:30 a.m. MDT/11:30 a.m. EDT/4:30 p.m. BST/9 p.m. IST
Topic: Ethical Hacking: Emerging Technologies that Require Red Teamers
Watch Now
Abstract:
Thanks to emerging technologies like cloud computing, the Internet of Things, and blockchain, businesses have become more cost effective and efficient. However, these developments have also created new attack surfaces for malicious hackers. According to a recent report from security platform Bugcrowd, between May 2020 and August 2021, 80% of ethical hackers encountered a vulnerability they had not seen before.
Cybersecurity experts need to be able to "think like a hacker" to keep pace with the ever-evolving threat landscape. To do so, they need cutting-edge ethical hacking technologies and up-to-date information on the latest hacking trends and techniques. This webinar will outline essential ethical hacking skills and offer advice for cybersecurity beginners interested in pursuing a career in ethical hacking.
Key takeaways:
How ethical hacking can work seamlessly with emerging technologies
Current security challenges that can be addressed with ethical hacking
In-demand offensive security skills
The role of penetration testing in the modern digital environment
Speaker: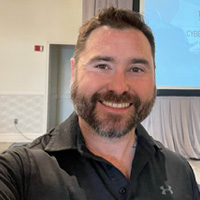 Ricoh Danielson,Vice President and Chief Information Security Officer
Bio: Ricoh Danielson is an information security and digital forensics professional with over 15 years of expertise managing incident response and digital forensics matters for domestic and international clients. He is experienced in handling cyber breaches, security incidents, and digital forensics in the healthcare, financial, and retail spaces. Ricoh has partnered with law firms, government agencies, and private clients to provide digital forensics services for high-profile and newsworthy cyber incidents. In addition to being a cybersecurity professional, he is a U.S. Army combat veteran.
*Examples, analysis, views and opinion shared by the speakers are personal and not endorsed by EC-Council or their respective employer(s)