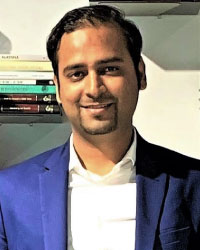 Speaker Varun Srivastava,
Designation: Head of Cyber Threat Intelligence – Injazat/Mubadala
Topic: Coronavirus – A reality check for Your BCP
Date of Webinar: 15th Apr, 2020
Time and Location: 05:00 pm Dubai Time / 06:30 pm IST / 02:00 pm BST
Watch Now
Speaker Bio:
Varun Srivastava is a Cyber Security Professional with 13+ years of experience in the industry. He currently heads the Cyber Threat Intelligence function for Injazat/Mubadala based in Abu Dhabi, UAE. Varun started his career as a co-founder of a Cyber Security firm that handled extensive projects across public and private sector organizations, covering the US, Europe, and Southeast Asia regions. Varun has later worked in senior positions of Fortune 500 companies, including Philips, Adobe, and PwC. His extended skills include the building of large-scale cyber security operations center, operationalizing cyber security solutions, implementing strategic cyber security frameworks, and executing global audit programs. Varun has authored multiple books and research papers on cyber security and has been a recipient of the PwC experience award for his exemplary performance. Varun serves as an advisory board member for several startups/SMEs to contribute towards organic growth in evolving cybersecurity offerings, such as blockchain technology and e-commerce. He regularly speaks at global cyber security conferences, including CISO Leadership Summit, among others.
Topic Abstract:
Pandemics aren't the usual business disruption, but sometimes these events impact a significant portion of the ecosystem. A pandemic, such as a coronavirus (COVID-19) outbreak, challenges existing business continuity management (BCM) initiatives of all the organizations. The COVID-19 coronavirus has left many organizations unsure whether their risk mitigation is sufficient. Most organizations have done some pandemic planning, but still, there are many unanswered questions about whether they have done everything they can to manage the risks. COVID-19 is causing a humanitarian crisis of global proportions, with hundreds of thousands of lives disrupted. Sadly, we're not nearing the end of the crisis. COVID-19 is also a test case for good and bad leadership. What should a leader be focused on amid a global disruption?
As the global economy progresses through the late-stage business cycle impacted by this pandemic, organizations must prepare to navigate through moments of economic flux, which could be economical, geopolitical, environmental, social, or competitive. During this time of uncertainty, most executives choose to stay "on course." However, failing to act on opportunities and risks presented by the flux would be a grave mistake. The most successful organizations take risks in "the flux," those places in the enterprise journey where others slow down.
Is your business continuity management ready for the challenge? With this webinar, you would learn how you can utilize BCM in times of crisis, understand the leadership perspective dealing with a pandemic, and be better prepared for any similar future events. Key agenda of the webinar includes:
Pandemic preparedness framework
Leadership perspective for Pandemic Management
Situation monitoring to determine a change in severity
Finance and treasury implications
Pandemic communications program
Impact on business operations
IT actions and considerations
After-action review
*Examples, analysis, views and opinion shared by the speakers are personal and not endorsed by EC-Council or their respective employer(s)