Date: October 10, 2023
Time: 5:00 PM EAT | 10:00 AM EDT | 7:30 PM IST
Topic: Current Trends in Cyber Threat Intelligence Tools and Techniques
Watch Now
Abstract: As cyber threats accelerate, security professionals need to remain abreast of the ever-evolving threat landscape. An effective defense against these threats often hinges on a reliable threat intelligence strategy. Whether dealing with threat intelligence or identifying and managing high-priority alerts, security analysts frequently detect and pinpoint compromise indicators. This task often requires using various tools and technologies geared toward threat hunting and intelligence sharing while simultaneously integrating this process into the existing security infrastructure.
Threat intelligence involves collecting and aggregating data from diverse sources, monitoring continuously, and applying advanced analytical capabilities to yield actionable insights. Given the labor-intensive and persistent nature of this process, a comprehensive security strategy that is agile enough to integrate new tools and automation processes seamlessly is required. In the current webinar, we aim to explore the impact of such a rapidly shifting threat landscape on threat intelligence capabilities and highlight the prevailing trends in tools and technologies that currently dominate security efforts globally.
Key takeaways:
the current state of the threat landscape
outlining current threat intelligence capabilities
advancements in threat intelligence accumulation and sharing
new technologies influencing threat intelligence
advancement in threat intelligence tools
Speaker: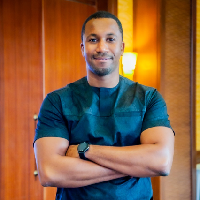 Bright Gameli Mawudor, PhD
Bio: Dr. Bright Gameli Mawudor is a pioneering thought leader in cyber security. As the Cyber Security Engineering Lead at MARA, a leader in Web3 and Blockchain technology in Africa, he is at the forefront of innovation.
He founded Africahackon, a cyber security collective that promotes excellence and community engagement throughout Africa.
With a Ph.D. in IT Convergence and Application Engineering, Dr. Bright is a highly respected advisor and has delivered captivating talks at over 280 conferences and workshops. His implementation of cutting-edge security strategies and cyber resilience advising for prominent organizations has garnered global recognition.
Driven by his expertise and leadership, he is dedicated to securing Africa's digital future.
*Examples, analysis, views and opinion shared by the speakers are personal and not endorsed by EC-Council or their respective employer(s)