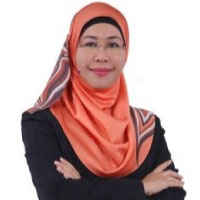 Speaker Marzida Mohd Noor,
Designation: Independent Non-Executive Director of Affin Bank Berhad, Heriot-Watt University and an active member of 30% Club Malaysian Chapter
Topic: Women in Cybersecurity: From the Workforce to the Boardroom
Date of Webinar: 26th Mar, 2020
Time and Location: 5:30 pm SGT/ 3 pm IST/ 12:30 pm KSA
Watch Now
Speaker Bio:
Marzida has extensive experience in leading IT business change and transformation, IT management and operations, program management, outsourcing, and management consulting. She was the Chief Information Officer of Malaysia Airlines and Head of Global IT Delivery Centre for SAP HR programs and projects at Shell Malaysia. Marzida is currently an Independent Non-Executive Director of Affin Bank Berhad, lending her experience in providing oversight on the company's IT, digital transformation, and cybersecurity.
Marzida is an active member of the 30% Club Malaysian Chapter, a business campaign to support a sustainable business-led change to improve the gender imbalance on Malaysian corporate boards.
Topic Abstract:
The world is facing a shortage of cybersecurity talent, and men outnumber women by about three to one.
With cybersecurity becoming one of the top five business risks, the boards of directors are now charged with providing oversight of a company's cybersecurity, ensuring appropriate risks mitigation strategies, systems, processes, and controls are in place. This has given rise to a demand for boards of directors with skills and experience in technology and cybersecurity.
Having more women in cybersecurity promotes diversity in perspectives, leadership, and experience and is good for business. We need people with disparate backgrounds since threat actors, hackers, and 'bad guys' also have a wide variety of backgrounds and experiences.
Although men outnumber women in cybersecurity, there is evidence that higher percentages of women are advancing to leadership and decision-making positions.
Cybersecurity and technology, in general, still has a perception problem where many women don't see them as viable career paths. Long-standing biases and gender stereotypes are steering women away from science-related fields.
More must be done to develop a sustainable and healthy pipeline of women cybersecurity professionals to reduce the shortage and narrow the gender gap in the workforce.
For all these challenges, we envision a bright future ahead…
What can be done to attract, recruit, train, and retain more women cybersecurity professionals?
Join in the conversation.
*Examples, analysis, views and opinion shared by the speakers are personal and not endorsed by EC-Council or their respective employer(s)