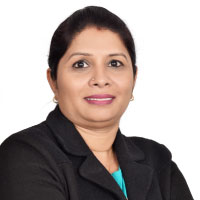 Speaker Shubhamangala Sunil,
Designation: Cybersecurity Expert and CEO – GOCYBEX
Topic: VA and PT in today's cybersecurity market
Date of Webinar: 18th Mar, 2020
Time and Location: 6 pm IST/ 2:30 pm CAT/ 3:30 pm KSA
Watch Now
Speaker Bio:
Shubhamangala Sunil is a cybersecurity expert with 20+ years of experience in advanced information/cybersecurity training, consulting, security auditing, and cyber forensics.
She has immense knowledge of cybersecurity from the system level to cloud level, IoT and AI devices, and technology with cyberlaw certified advisor.
She has trained 50,000+ people globally from different domains including Govt Arms and corporates.
She is also a consultant and adviser for 2000+ projects globally, has solved and assisted in 5000+ cases, and has executed VAPT on over 10,000 devices.
She has been awarded the "Award of Excellence," in Cybersecurity by NCRDC and has also received the "Consultant of the Year" by CIO REVIEW.
Topic Abstract:
VAPT is a term often used to describe security testing that is designed to identify and help address cybersecurity vulnerabilities. This could include anything from automated vulnerability assessments to human-led penetration testing and full-scale red team simulated cyber-attacks.
India's cybersecurity market for products and services will grow up to $35 billion in 10 years from the present $45 billion. However, the security concerns of the growth are also high and irrespective of geo location the security of data and the network of any organization or country is most important in today's virtual world.
The healthy growth is being driven by innovation and newer technologies, but the safeguards to ensure safety of services and products is seeing slow progress. There is an urgent need to bridge the gap. In this session, we will learn how this can be done and built with the latest technology involved in VAPT.
*Examples, analysis, views and opinion shared by the speakers are personal and not endorsed by EC-Council or their respective employer(s)