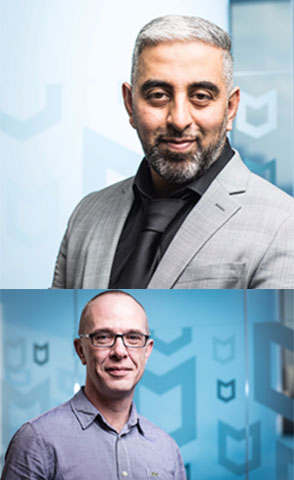 Name: Raj Samani and Lee Munson
Designation: Chief Scientist, McAFee and Senior Technical Writer, McAFee
Topic: The Rise, Death and Resurrection of Ransomware
Date of Webinar: 29th May, 2019
Time and Location: 9am EST / 6:30pm IST/ 1pm GMT
Watch Now
Speaker Bio:
Raj Samani: Raj Samani is a computer security expert working as the Chief Scientist, and McAfee Fellow for cybersecurity firm McAfee. Raj has assisted multiple law enforcement agencies in cybercrime cases, and is special advisor to the European Cybercrime Centre (EC3) in The Hague.
Raj has been recognized for his contribution to the computer security industry through numerous awards, including the Infosecurity Europe hall of Fame, Peter Szor award, Intel Achievement Award, among others. Raj is also the co-author of the book 'Applied Cyber Security and the Smart Grid', CSA Guide to Cloud computing, as well as technical editor for numerous other publications.
Lee Munson: Lee Munson has ten years' experience in the cybersecurity field, beginning as a writer for several esteemed industry publications before starting up the security awareness function within a large global media company. He is currently a technical writer at McAfee, with responsibility for disseminating information in a variety of formats, including blog posts, quarterly threat reports and via the Komrade Cyber podcast.
Topic Abstract: Once arguably the biggest threat to both organizations and individuals alike, ransomware has been in decline for a while now, though rumors of its ultimate demise may have been greatly exaggerated. With the increase in RDP attacks and the strengthening of ransomware-as-a-service, we will highlight the latest threats, give insight into one of our recent investigations and provide some useful prevention and mitigation tips.
*Examples, analysis, views and opinion shared by the speakers are personal and not endorsed by EC-Council or their respective employer(s)