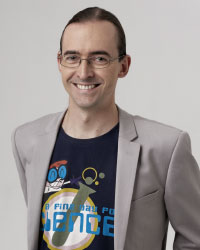 Speaker Ross Saunders,
Designation: Managing Director, Ross G Saunders Consulting
Topic: The Best Way to Protect Privacy with Security
Date of Webinar: 30th Sep, 2020
Time and Location: 1:00 pm WAT/ 5:30 pm IST/ 1:00 pm BST
Watch Now
Speaker Bio:
Ross specializes in data protection and information security, raising awareness and educating staff on what can, and does, go wrong in data protection. As an international speaker, facilitator, and consultant, Ross demystifies technical, security, and legal topics to make them accessible. Ross is dedicatedly passionate about data privacy, being a victim of identity theft, and witnessing the first-hand impact of data breaches on individuals and organizations. He aims to help software and tech organizations manage their data effectively, avoiding the pitfalls they may not be aware of and retaining their clients' trust.
Ross holds a master's degree in the Management of Technology and Innovation. He is a Certified Information Privacy Professional (CIPP/E) and an EC-Council Certified Ethical Hacker (CEH v10). He is the former president of the Professional Speakers Association of Southern Africa (PSASA) and a Professional Member of the Canadian Association of Professional Speakers (CAPS) and the International Association of Privacy Professionals (IAPP).
Topic Abstract:
The speaker will cover how privacy and cybersecurity cannot be isolated from each other. More laws are being passed and implemented in different countries to protect privacy, and cybersecurity is a vital part of all these laws. Practitioners must know that they have legal and technical responsibilities to keep the data safe and secure the IT infrastructure. The speaker will also include interesting real-life case studies of my clients.
Key takeaways:
How are cybersecurity and privacy laws inter-related?
How does practical implementation of defensive measures help in legal compliance?
Difference between a security strategy on paper and its real-world implementation
*Examples, analysis, views and opinion shared by the speakers are personal and not endorsed by EC-Council or their respective employer(s)