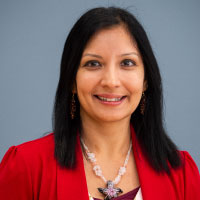 Speaker Jothi Dugar,
Designation: Chief Information Security Officer, Wellness Coach, Dance Director, Author
Topic: The Art of the Feminine in the World of Cyber
Date of Webinar: 31st Mar, 2020
Time and Location: 11:00 am EDT/ 08:30 pm IST/ 04:00pm BST
Watch Now
Speaker Bio:
Jothi Dugar is a Multidimensional Executive, Chief Information Security Officer, Entrepreneur, Author, International Public Speaker, Dance Director, Holistic Health & Wellness Practitioner, AND a happily married mom of three.
A trailblazer and pioneer in the field of healthcare cybersecurity, and one of just a handful of leading Female Chief Information Security Officers (CISOs) in the world, she is truly passionate about empowering women to face their fears, build confidence in themselves, and break the glass ceiling.
Jothi is a highly sought after international public speaker on a variety of topics, author, mentor, and health and wellness life coach. With a lifelong commitment to empowering people to take charge of their health, wellness, career, and their life as a whole, Jothi founded the Power of Healing 360 holistic wellness practice.
In addition, she finds great joy and is proud to be the Director of BollyNatyam Masala – a local dance company where she coaches the younger generation in the performing arts by building their confidence and skills and enhances their mindset of giving back to the community.
Topic Abstract:
Every woman has a story that they bring with them wherever they go, and it makes them who they are today.  However, that story can be changed if it is not an empowering one.  Cybersecurity, being one of many fields that are predominantly male dominated, is one which woman currently are underrepresented and unempowered. The unique perspectives, experiences, skills, mindset, and critical thinking abilities, as well as emotional intelligence that women bring, are not appreciated as much as they should be.   
By understanding the psychology of women and cyber, we can bring more diversity in the cyber field. We can also educate, inform, and empower women to not only break through the glass ceiling but to be pioneers and change the landscape of cyber and how we think of it.   
The very field of cyber is often miscategorized as a purely technical field. This misconception has driven many women away.  In this webinar, we will learn that cyber is an all–encompassing field, one that is broad and inclusive of all abilities, skills, strengths, life paths, and experiences. 
In this webinar, you will learn how to be your own advocate in life, health, and in your profession, especially in the cyber field.  You will also learn how expansive and encompassing cyber is, the multitude of paths you can take to gain experience and to create your journey to leadership roles within cyber.  You will also learn what you can do to empower other women, to not fear fields that may be male dominated currently. Everything has the power to change – so let's start this change by empowering women to break through the glass ceiling! 
 Key Takeaways 
My

j

ourney to becoming a CISO 

 

Understanding the

p

sychology behind

c

yber

 

Looking at the world of opportunities in

c

yber

 

Understanding the role that

d

iversity plays in

c

yber

 

Looking at the innate wiring of

w

omen

and m

en

 

What needs to be done

to bridge this gap

 
*Examples, analysis, views and opinion shared by the speakers are personal and not endorsed by EC-Council or their respective employer(s)