Date: September 15, 2022
Time: 9 a.m. CDT/5 p.m. IDT/7:30 p.m. IST
Topic: How to Leverage Security Stack Data to Strengthen Your Cybersecurity Posture
Watch Now
Abstract: Risk management is an essential part of any cybersecurity posture, but it is separate from security stack performance. Compliance and risk management frameworks are important, but they do not digest, reflect, or analyze any data crucial to the security stack. These frameworks assess an organization's security strategies and recommend actions to mitigate cybersecurity threats. So how do we evaluate the tools and policies we adopt to ensure compliance and thwart attacks effectively?
A new category of solutions called Cybersecurity Performance Management (CPM) enables real-time, data-driven assessment of cybersecurity stack performance, using self-generated data directly from the stack. CPM helps CISOs and other cybersecurity stakeholders streamline decision-making with a risk-based, performance-driven approach and offers insights into the actual optimization of cybersecurity stacks while helping identify, track, and report on trends.
Security experts need 360-degree visibility into their security stacks to reduce risk and enhance incident management programs. With CPM, they can see the bigger picture while drilling down to the specifics, thus enabling them to make swift decisions. A quantifiable CPM empowers security teams to prioritize security incidents, allowing security leaders to make informed decisions. This webinar will explore how the data from security stacks can help strengthen your cybersecurity posture and manage risks.
Key takeaways:
Make sure you measure everything you need to manage in a cyberattack
Leverage your security stack data to stay ahead of threats
How security stack data can help achieve compliance
How cybersecurity performance management can enhance security programs
Speaker: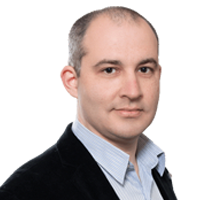 Mike Admon, Co-Founder & CTO, SeeMetrics Inc.
Bio: Mike Admon is the co-founder and CTO of SeeMetrics Inc. He has over 20 years of executive cybersecurity and project management experience in leading global enterprises. His previous positions include the CISO of Bright Machines, the CTO of Verint Systems, and the Principal Cyber Security Architect in Cisco Systems CoE. Mike has also served in an executive role at Elbit Systems subsidiary leading SOAR delivery.
*Examples, analysis, views and opinion shared by the speakers are personal and not endorsed by EC-Council or their respective employer(s)