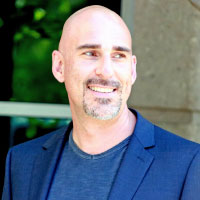 Name: Steve Tcherchian
Designation: Chief Product Officer and CISO, XYPRO Technology
Topic: Security Contextualization: Combating Risk with Actionable Data
Date of Webinar: 20th May, 2019
Time and Location: 8:00 am PST/8:30 pm IST/ 5 pm GMT
Watch Now
Speaker Bio:
Steve Tcherchian, CISSP, PCI-ISA, PCIP is the Chief Product Officer and CISO for XYPRO Technology. Steve is on the ISSA CISO Advisory Council, the NonStop Under 40 Executive Board and part of the ANSI X9 Security Standards Committee. With nearly 20 years of experience, Steve is a world-renowned expert in the cybersecurity field. He has global responsibility for strategy, innovation and development of XYPRO's security product line as well as overseeing XYPRO's risk, compliance and security to ensure the best customer experience in the Mission-Critical computing marketplace.
Steve is an engaging and dynamic speaker who actively discusses and presents at conferences on cybersecurity topics around the world, as well as advising on data privacy, compliance and cybersecurity matters to the public and private sector.
Topic Abstract:
It's no secret that the longer a breach goes undetected, the more expensive and damaging the result from it will be. The current average time to detect a security breach is over 200 days. That means an attacker is on your network, in your systems, doing what they want for over 6 months before they are discovered – IF they are discovered. Most organizations have the data and tools needed to detect a breach, yet are not able to do so in a timely fashion. This is partially due to the volume of data that needs to be analyzed and manual processes no longer being sufficient. In this session, we will discuss how introducing context to your data analysis enables faster response that demonstrates value, reduces risks and controls cost.
*Examples, analysis, views and opinion shared by the speakers are personal and not endorsed by EC-Council or their respective employer(s)