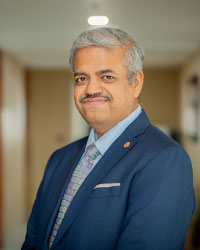 Speaker Manish Sehgal,
Designation: Chief Information Security Officer at AU Small Finance Bank Limited
Topic: Secure your network with possible defense mechanisms
Date of Webinar: 7th May, 2020
Time and Location: 2:30 pm IST/ 5 pm SGT/ 9.00 am GMT
Watch Now
Speaker Bio:
Manish Sehgal is an information security professional with experience of over 22 years in the information security domain encompassing various sectors such as BFSI, Manufacturing, Education, and ITES. His current role as CISO of AU Small Finance Bank involves delivering as a trusted advisor to the Board members, directing the Information Security initiatives, and deploying controls that ensure the data of the Bank remains secure.
Topic Abstract:
Network security has become crucial for computer users, military, private, and government organizations. Along with the advancements in our digital lifestyle, the risks involved and corresponding digital security have also become a significant concern. In such an environment, the current internet security protocol involved in network topology and its subsequent security measures applied will not be enough to combat threats that arise with emerging technologies. Hence, more robust developments are required for every secured network. The foremost essential for these developments is the life cycle – designing, planning, building, and operating a network that is essential for an active security policy.
With attackers deploying different kinds of malware that can be injected across the network, many IT organizations and government agencies are attempting to stay secure using firewalls and encryption mechanisms. However, the lack of adequate knowledge and skills among security engineers, especially in the face of advanced technologies, may lead to successful attacks on the network. Hence, many organizations now focus on deploying certified professionals in network defense to analyze attack methods beforehand and subsequently allow for the incorporation of appropriate security measures.
The global networking infrastructure comprises colossal information from different personal, commercial, military, and government organizations, which require different security mechanisms accordingly. This webinar describes different kinds of network attacks along with various types of security mechanisms that can be applied to comply with the need for secure network architecture.
*Examples, analysis, views and opinion shared by the speakers are personal and not endorsed by EC-Council or their respective employer(s)