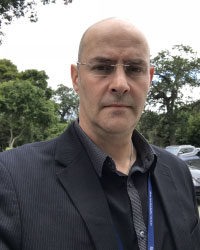 Speaker Wayne Burke,
Designation: Vice President – Cyber2 Labs Corporation,
Topic: Router Security Assessment and Exploitation
Date of Webinar: 27th May, 2020
Time and Location: 11:00 am Dubai Time / 12:30 pm IST/ 08:00 am BST
Watch Now
Speaker Bio:
Wayne Burke is recognized globally for his 25 years plus, work experience, achievements and contributions to the IT Security Industry. He currently specializes in, Penetration Testing (Offensive and Defensive Ethical Hacking), Mobile hardware, Digital Forensics and autonomous UAV / Drone Security. Wayne and his Group specialize in a broad range of Cyber Security Services and Products, such as custom-built hardware defense decoy devices which also utilize AI.
Topic Abstract:
In this webinar, Wayne will teach you how-to check and test the security of routers, including best practices and the importance of using VPN's.
Especially given the current global state of work at home employees.
In 2018 the FBI sent out requests: F.B.I.'s Urgent Request: Reboot Your Router to Stop Russia-Linked Malware – An analysis by Cisco's threat intelligence division found that hundreds of thousands of routers, from a range of manufacturers, were infected by the malware linked to the hacking group Fancy Bear.
https://www.nytimes.com/2018/05/27/technology/router-fbi-reboot-malware.html
We will first demonstrate how-to perform manual firmware analysis and then techniques for using the open source framework tool called RouterSploit, used as part of a security assessment for routers by ultimately focusing on exploitation and gaining remote access of routers and VPN's.
RouterSploit is an open-source exploitation framework dedicated to embedded devices.
It consists of various modules that aids penetration testing operations:
exploits – modules that take advantage of identified vulnerabilities
creds – modules designed to test credentials against network services
scanners – modules that check if a target is vulnerable to any exploit
payloads – modules that are responsible for generating payloads for various architectures and injection points
generic – modules that perform generic attacks
This webinar will be practical hands-on, building your security knowledge and skills in order to deal with risks which we may encounter when so many of us are working from home.
*Examples, analysis, views and opinion shared by the speakers are personal and not endorsed by EC-Council or their respective employer(s)