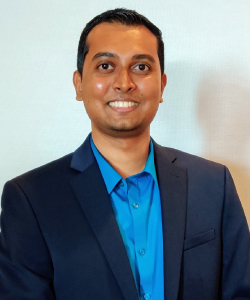 Speaker Glen Singh,
Designation: InfoSec Author & Cybersecurity Trainer
Topic: Role of Network Security in Today's World
Date of Webinar: 27th Nov, 2020
Time and Location: 12:30 pm AST/ 10 pm IST/ 4:30 pm GMT
Watch Now
Speaker Bio:
Glen D. Singh is a cybersecurity trainer and information security author. His areas of expertise are penetration testing, digital forensics, network security, and enterprise networking. He is a holder of many cybersecurity certifications from top awarding bodies such as EC-Council, Cisco, Check Point and Fortinet. Glen has trained many professionals in various sectors, ranging from regional Internet Service Providers (ISPs) to government agencies in the field of cybersecurity. He has authored many books which focus on discovering and exploiting vulnerabilities, implementing security solutions to prevent cyberattacks, and designing enterprise networking solutions. Additionally, he loves teaching and mentoring others, and sharing his wealth of knowledge and experience as an author.
Topic Abstract:
Network security plays a vital role in today's world. Without it, threat actors such as cyber criminals will gain the advantage over their targets. Organizations are beginning to realize the need to invest in cybersecurity and network security solutions to safeguard themselves. While cyberthreats exist both internally and externally, many IT administrators focus on protecting against threats which originate from the Internet and forget about protecting their internal network and users. Implementing network security solutions using a strategic multi-layered approach allows an organization to create a fortified network.
During the course of this webinar, you will discover how cyber criminals are affecting many organizations and the current world situation in the industry. We will explore how major companies are making a difference and taking charge with implementing security controls to boost their network security posture as their way to safeguard themselves. As with any discussion on security, you will learn about top skills that will help a security enthusiast to build a successful career in both the cybersecurity and network security industry. Lastly, we'll take a dive into understanding how to gain the skill sets and certifications which will add value to your portfolio.
Key takeaways:
Understanding network security in a nutshell.
Modern cyber threats and its impact.
The need for Defense in Depth (DiD) approach.
Types of security controls to fight against cyberthreats.
Learn about the skill sets that can help you get started in the field of network security (optional).
*Examples, analysis, views and opinion shared by the speakers are personal and not endorsed by EC-Council or their respective employer(s)