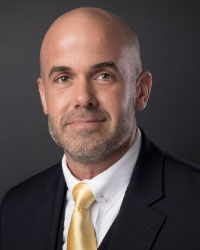 Speaker Michael Doran,
Designation: Cyber Resilience and Due Diligence Director, GSK
Topic: Ransomware Vs. Healthcare: Beat it with Resilience!
Date of Webinar: 27th Oct, 2020
Time and Location: 10:00 am CST | 08:30 pm IST | 03:00 pm GMT
Watch Now
Speaker Bio:
Michael Doran is an information security leader and cyber resiliency expert. He holds multiple security certifications and has consulted for Fortune 500 companies in an incident response capacity as well as helping a wide range of clients within the private and public sector improve cyber resiliency by building, optimizing and maintaining their cybersecurity systems and incident response programs. Michael is an expert in digital forensics, as well as managing complex forensic and data breach investigations. He has led the forensic analysis and incident response efforts to assist large and small corporations targeted by advanced nation-state malware, provided deep analysis of elaborate and advanced malware campaigns targeting the direct deposit segments and point of sale systems of various organizations. While his background is in digital forensics, investigations and incident response, his distinct specialization is definitely developing and improving security incident response programs by performing maturity assessments, developing tactical incident response playbooks, and writing incident response and incident management plans. He also has extensive experience in designing and facilitating complex breach simulations and tabletop exercises at the technical, Board and Executive levels. In private, he enjoys researching and learning new technologies, all things cryptocurrency and spending time with his wife and daughters.
Topic Abstract:
It is the call that every security professional and executive dreads. The organization has just been hit with ransomware and everything has been locked down.
The cyber landscape has witnessed a dramatic shift from small crimes to large-scale ransomware attacks. Read the news and you will find stories of threat groups from around the world inflicting damage on large and small businesses alike, encrypting vital data and costing millions in recovery, lost revenue and reputation. Although the protection of the organization's crown jewels has always been the focus of cyber security professionals, current attacks can halt business operations entirely and are causing cyber defenders to revamp their current strategies to compensate for the shift.
Given the growing likelihood that a ransomware attack will occur, businesses can't afford to put all their trust on cyber-security measures to prevent attacks. While the traditional cyber defense mechanisms help in preventing conventional attacks, as the threat landscape continues to expand, businesses will need an all-encompassing strategy to help mitigate those risks. In short, they must become cyber resilient.
This discussion will explore the advancement of ransomware attacks and the impact that their disruptions have within the healthcare industry. Additionally, the importance of cyber resilience, how its prominence over the traditional cyber security approach as shifted strategy development and how organizations should treat cyber resilience as a matter of priority concern in their preparation for a ransomware attack.
Key Takeaways:
Understand the impact of ransomware in the healthcare industry.
Response challenges and areas to avoid before an attack.
Turning response efforts into cyber resilience: practical strategies to ensure operational recovery.
*Examples, analysis, views and opinion shared by the speakers are personal and not endorsed by EC-Council or their respective employer(s)