Date: August 25, 2022
Time: 9:30 a.m. CDT/10:30 a.m. EDT/8 p.m. IST
Topic: Protecting the Cloud Computing Environment with CEP Shield against DDoS Attacks
Watch Now
Abstract:
Distributed Denial of Service (DDoS) attacks are emerging as one of the most concerning cyberthreats to cloud services. While organizations have benefited from cloud features such as the ability to store and process large volumes of data, increased efficiency, and reduced network latency, threat actors and cybercriminals are also leveraging sophisticated techniques to exploit cloud applications through DDoS attacks. Due to the massive data streams generated in the cloud, ongoing data monitoring is a crucial way to gain actionable intelligence that enables security issues to be detected and mitigated. Technologies like event stream and complex event processing (CEP) systems are designed to process, analyze, and monitor large volumes of data in real-time. CEP systems can be used to gain critical insights into DDoS-related security events, which can help cyber and IT teams detect and prevent DDoS attacks. This webinar will discuss the impact of CEP systems and how they can shield cloud applications and data against DDoS attacks.
Key takeaways:
How adopting cloud technology impacts the DDoS threat landscape
Various challenges associated with DDoS attacks in cloud environments
The role of CEP systems in detecting advanced DDoS attacks
How CEP systems correlate with elements of cloud environments to mitigate DDoS attacks
Speaker: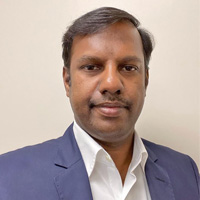 Venkatesan P., Founder and Principal Cybersecurity Architect, Way11 Cybersecurity
Bio: Venkatesan P., principal cybersecurity architect and founder of Way11 Cybersecurity, has over 20 years of experience in cybersecurity and information systems. He helps organizations protect their assets against internal and external threats and design successful, cost-effective solutions. His experience spans many verticals in internet security, including threat intelligence research, cloud computing (IaaS and PaaS), security metrics, firewalls, intrusion detection and prevention systems, anomaly detection, authentication, encryption, and secure network architecture.
Venkatesan has delivered various cybersecurity projects for Fortune 100 enterprises across the United States, Europe, and the Asia-Pacific region. He has extensive hands-on experience evaluating different technologies and defining their places in a diverse portfolio of products. He also has a deep understanding of the threats that enterprises face and how to perform a risk assessment based on their vulnerabilities. Venkatesan is a distinguished professor and lecturer who has experience teaching BAT and AAS-level cybersecurity courses.
*Examples, analysis, views and opinion shared by the speakers are personal and not endorsed by EC-Council or their respective employer(s)