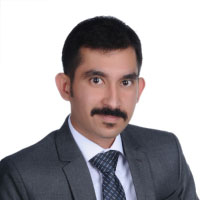 Name: Alaa Bahrani, Regional Cyber Security Leader at GE
Topic: Protecting Against Common Web Application Vulnerabilities
Date of Webinar: 19th December, 2018
Time and Location: 4pm BahrainTime/ 6:30pm IST/pm GMT
Watch Now
Speaker Bio: Alaa Bahrani is a Regional Cyber Security Leader at GE with 14 years of experience in the Information Technology industry. Over the years, he has garnered expertise across the entire software development life cycle, gained in-depth exposure across information security, infrastructure, project management, networks and network security. He has been recognized as an accomplished Information Security professional, having extensive experience with web application security, network security, database security and using secure programming methodologies to clear out vulnerabilities in development phase. He is a recognized trainer & enabler, having successfully designed & driven programs to augment performance, competence, productivity & efficiency.
Topic Abstract: The web application environment is where applications are hosted on web servers to be accessed by users over the web. This architecture is favored across many organizations these days as it has many technological advantages and introduces ease of use and convenience to the users. In today's environments, statistics are showing that the majority of attacks are happening on the top layers, specifically on web applications, and in order to address security needs properly we need to understand the vulnerabilities and threats associated with web applications and protect against them.
In this webinar we will showcase some of the common web application vulnerabilities and explain how these attacks serve successful against them, we will also have a look at how to countermeasure these attacks with effective controls. Some of the common vulnerabilities that we will talk about are SQL injections attacks, parameter tampering attacks, file injection attacks, and cross-site scripting (XSS).
*Examples, analysis, views and opinion shared by the speakers are personal and not endorsed by EC-Council or their respective employer(s)