Date: June 23, 2022
Time: 10 a.m. EDT/11 a.m. BRT/7:30 p.m. IST
Topic: : Network Security Essentials: Attacks and Defense Strategies
Watch Now
Abstract:
Network security encompasses all physical and virtual assets that enable data transmission between nodes or endpoints. As a result, network defense is a broad and crucial cybersecurity function that covers a wide range of job tasks, including finding security weaknesses, blocking common intrusion attempts, detecting sophisticated cyberthreats, monitoring traffic, implementing security rules, and protecting data.
As the technological landscape evolves, so do threat actors' network attack techniques. Technological advancements are directly proportional to the developments that occur on both sides of the threat–security divide. Consequently, there is a great deal of territory to cover when introducing the concept of network security and associated threats. The purpose of this webinar is to explain the essential concepts, tools, and terminologies associated with network attacks, vulnerabilities, and defense.
Key takeaways:
Introduction to networks, digital assets, and vulnerability hotspots
Understanding network security controls
Protecting data at different layers of the open systems interconnection model
The different network security modes and their associations with various types of endpoint devices
Traditional vs. virtual network security design
Technical and human-induced vulnerabilities
Network attacks and security tools
Speaker: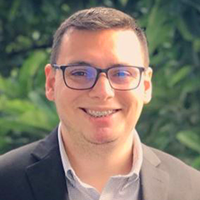 Renan Huguenin, IT/Cybersecurity Executive Manager, Icatu Seguros
Bio: Renan Huguenin is an IT and cybersecurity executive manager at Icatu Seguros. He has worked in the information security field since 2006, has managed a variety of projects across business segments, and is a Global Board Member for EC-Council's Certified Network Defender (C|ND) certification.
*Examples, analysis, views and opinion shared by the speakers are personal and not endorsed by EC-Council or their respective employer(s)