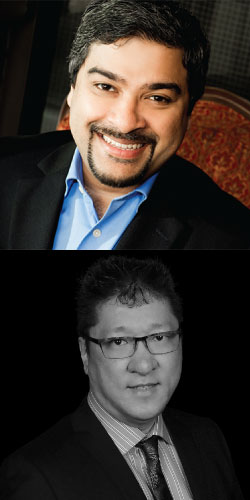 Speakers:
Farooq Naiyer, Chief Information Security Officer @ ORION & Ontario Cybersecurity Higher Education Consortium
Michael Leung, Chief Strategy Officer of siberX
Topic: Need for Threat Intelligence Analysts in the Canadian Cybersecurity Space
Date of Webinar: 18th Sep, 2019
Time and Location: 12pm EST/ 9:30pm IST/ 5PM GMT
Watch Now
Speaker Bio:
Farooq Naiyer: Farooq is the CISO of the largest research and education network in Canada. Farooq is also the lead for the Ontario Cybersecurity Higher Education Consortium which comprises of 29 Higher education institutions from Ontario.
Prior to joining ORION Farooq was part of the Cybersecurity and Privacy team at PwC in Canada where he led several cyber security engagements. Prior to that Farooq had led IT Assurance teams for a leading retail giant in Canada. He has also held leadership roles in leading financial institutions in the Middle East and south Asia.
He has delivered lectures at some of the leading universities in North America and South Asia on IT Audit, Information Security Management and IT Compliance.
Michael Leung: Michael Leung is an experienced leader of governance and risk management in cyber/information security with more than 15 years of senior level management responsibility. He is the Chief Strategy Officer of siberX – a roaming, customized platform for training, events and skills development; and the Founder and Management Consultant of CANADIAN CYBERSECURITY INC. – a consulting businesses helping organizations identify, prepare for and mitigate cyber risks by providing counsel and expertise in risk management, strategy, and tactics.
Topic Abstract:
A Threat Intelligence Analyst plays a vital role in the InfoSec posture of an organization. Threat Intelligence teams then analyze the collected data to produce appropriate threat intelligence management and feeds reports full of only the most important information that can be utilized by automated security control solutions and management to make security decisions for the company. The fundamental purpose of this kind of security is that it helps to keep companies informed of the advanced threats, exploits and zero-day threats that they are most vulnerable to and how to act against them.
Once the organization couples threat intelligence, with the information and knowledge that Threat Intelligence applies, it achieves a better defense of network-based assets
Global Threat Intelligence Market was valued at USD 3.32 billion in 2016 and is projected to reach USD 15.83 billion by 2025, growing at a CAGR of 18.95% from 2017 to 2025.
Courtesy of being a high impact economy, North American countries like US and Canada are massively falling prey to malicious hackers, with security agencies like CSIS (Canadian Security Intelligence Service) taking serious notice of the same.
As Canadian enterprises continue to turn toward managed security services to level the playing field against a continuous onslaught of evolving malware, ransomware campaigns and adversaries who are becoming better at evading detection.
Certified Threat Intelligence Analyst (C|TIA) is a training and credentialing program designed and developed in collaboration with cybersecurity and threat intelligence experts across the globe to help organizations identify and mitigate business risks by converting unknown internal and external threats into known threats. It is a comprehensive specialist level program that teaches a structured approach for building effective threat intelligence. The program was based on a rigorous Job Task Analysis (JTA) of the job roles involved in the field of threat intelligence. This program differentiates threat intelligence professionals from other information security professionals. It is a highly interactive, comprehensive, standards-based, intensive 3-day training program that teaches information security professionals to build professional threat intelligence.
*Examples, analysis, views and opinion shared by the speakers are personal and not endorsed by EC-Council or their respective employer(s)