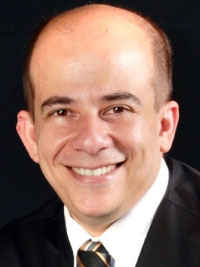 Name: Faisal Yahya
Topic: Invisible Threat on Serverless Architecture
Date of Webinar: 18th July 2018
Time and Location: 4:00 PM, Jakarta
Speaker Highlight: Faisal Yahya, is a Self-driven, forward-thinking, highly-versatile, innovative, hands-on Chief Information Officer with nearly 2 decades of progressive leadership in Software Development Life Cycle, IT Strategy, Enterprise Architecture, and Cybersecurity. He works in network and security audits with industry standard baseline testing. He is engaged with the Asian IT communities, in actively researching, speaking and advocating for better Cybersecurity practices and defining improved IT Quality Assurance. He is experienced in white paper development, capability briefings, technical presentations to clients and technical writing. He is a poised and trusted high-level advisor who works collaboratively and diplomatically with management teams, vendors, client staff, and government agents. He is an analytical and strategic thinker who can conceive, develop and implement road maps for further innovation and can expand the information technology services impact. He is passionate about applying the latest technology securely and efficiently.
About the webinar: This webinar is about the Invisible Threats on Serverless Architecture. We use serverless paradigm for building cloud-hosted applications. Threats to the security of our serverless applications can take many forms, some are the same old foes we have faced before; some are new; and some have taken on new forms in the serverless world. This webinar is going to educate about Emerging Serverless Computing as Cloud 2.0 and Function as a Service, Current Threat Landscape, Hybrid Cloud and Multi-Cloud, 3 tasks to leverage the protection.
Developers can leverage the third-party services for the non-core work applications they are creating. One of the great ways to perform this is by adopting Serverless computing. By doing this, all the physical infrastructure and system software are no more extended issues that these developers need to deal with. Adopting and integrating this Serverless computing architecture into runtime applications will not eliminate security concerns throughout the DevOps development life-cycle. Within this 30 minutes webinar, we will exchange ideas on what are the three biggest concern for cybersecurity when adopting Serverless computing and how hackers or threat actors adjust their methodologies in tandem with these emerging cloud computing technologies.
*Examples, analysis, views and opinion shared by the speakers are personal and not endorsed by EC-Council or their respective employer(s)
Watch The Webinar