Date: July 5, 2023
Time: 9:00 PM PST | 6:30 PM IST | 8:00 AM CDT
Topic: Incident Response Planning: Preparing for Network Security Breaches
Watch Now
Abstract: Security incidents and breaches can have catastrophic impacts on organizations. The main challenge with modern cybersecurity threats is that attackers are constantly evolving in their methodologies, and threat surfaces are constantly expanding. With high volumes of data being generated worldwide, it can get challenging to mitigate emerging threats since hackers target both the technology and the people operating it. Initial data breaches can sometimes go undetected, and it can take months to conduct thorough investigations and make a full recovery. Proper incident response planning and prevention can help cut costs, safeguard sensitive information, and ensure the integrity of data. This webinar focuses on effectively eradicating prevalent threats, identifying various elements of attacks, and planning a robust and dependable incident response roadmap. Participants will gain a clear understanding of the cybersecurity landscape and the ability to address security breaches and execute effective remediation procedures.
Key takeaways:
understanding the current cybersecurity landscape and incident response planning
learning the latest tools, techniques, and security practices
discovering top threat trends, how to prepare for data breaches, and how to mitigate them
getting tips on how to secure corporate networks and data to protect users
improving your security policy and building a solid foundation for the future
learning how to best work with law enforcement authorities, collect evidence, quarantine threats, and avoid system redundancies
Speaker: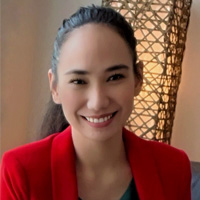 Maez de Guzman, Cybersecurity Leader
Bio: Maez leads one of the Big Four's Global Delivery Services, the cybersecurity team in the Philippines, servicing their biggest clients globally. She is the first Certified Chief Information Security Officer in the Philippines and has received numerous industry accolades, including ASEAN Top Women in Security for 2021 and 2022, the Philippines Top Women in Security for 2020, Global EPIC Women in Cyber, and Global Women Who Inspire Honorary, to name a few. She is a global thought leader, speaker, and a member of the C|CISOs International Advisory Board, which comprises prominent and global industry leaders and top threat intelligence professionals from diverse sectors and globally-known brands. She has lived and worked across the APAC region as a head of cybersecurity and threat intelligence. Maez is a seasoned proven leader with extensive experience in setting up cybersecurity centers of excellence, business transformations, and large-scale threat detection and response operations. She has a proven track record of integrating security into business and technology operations and helping global leaders address critical security and risk concerns.
*Examples, analysis, views and opinion shared by the speakers are personal and not endorsed by EC-Council or their respective employer(s)