Date: April 19, 2023
Time: 9:00 AM EDT | 3:00 PM CEST | 6:30 PM IST
Topic: Identity-Driven Security: The Key to Zero Trust
Watch Now
Abstract: Zero Trust, a threat monitoring approach, has moved to the forefront of information security in the last two years, transforming how enterprise security architectures are designed, deployed, and measured. Zero Trust security efforts are holistic and design-integrated, thus eliminating silos and weaker technologies. However, because Zero Trust is fundamentally an identity-centric approach, its policy and enforcement effectiveness rely on solid identity management programs and technologies. In this presentation, we will explore the why, what, and how of Zero Trust and explain why robust and reliable identity management is a key success factor.
Key takeaways:
understanding the core principles of Zero Trust security and why it is important to adopt them now
how and why a robust identity management program and infrastructure are important to building effective Zero Trust policies
case studies of how customers have used this approach to obtain significant business, technical, and security benefits
understanding how organizations can quickly begin a Zero Trust journey, integrating with and enhancing their existing identities, IT, and security infrastructures
Speaker: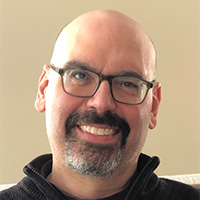 Jason Garbis, Founder and Principal, Numberline Security
Bio: Jason Garbis is Founder and Principal at Numberline Security, a consulting firm providing Zero Trust Security education and advisory services. He is the author of Zero Trust Security: An Enterprise Guide, co-chair of the Zero Trust Working Group at the Cloud Security Alliance, and is a frequent contributor to and speaker at industry conferences. Jason holds a CISSP certification, a BS in Computer Science from Cornell, and an MBA from Northeastern. Professionally, he has expertise in identity management, enterprise security architecture, network security, and security strategy. Previously, he served as Chief Product Officer at Appgate and held roles at security firms, including RSA and Aveksa.
*Examples, analysis, views and opinion shared by the speakers are personal and not endorsed by EC-Council or their respective employer(s)