Date: June 30, 2022
Time: 9:30 a.m. EDT/2:30 p.m. BST/7:00 p.m. IST
Topic: How CISOs Should Approach Critical Cloud Security Issues
Watch Now
Abstract:
Cloud storage has become indispensable for many businesses, as it minimizes costs and improves overall efficiency. While cloud computing is a boon for enterprises, however, failing to ensure cloud security could eliminate all the potential benefits of cloud technology. Cyberthreats, such as ransomware and supply chain attacks, are rising as cybercriminals develop increasingly sophisticated techniques for exploiting cloud applications.
Today's chief information security officers (CISOs) face many challenges when migrating to the cloud, including how to handle critical bugs and secure digital assets in a cloud environment. To meet these challenges, CISOs need strategies for ensuring data protection in the cloud, detecting cloud security breaches, and ensuring business continuity. This webinar will address the issues that security teams face in protecting the cloud and cover how to identify and fix cloud security system bugs.
Key takeaways:
The impact of zero-day and supply chain attacks on the cloud
Critical bugs in cloud security applications
The role of DevSecOps in securing cloud applications
How CISOs should approach emerging cloud security challenges
Speaker: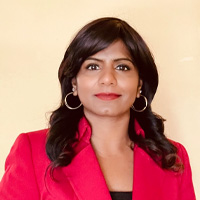 Uma Rajagopal, Senior Information Security Industry Specialist at Amazon
Bio: Uma is a Senior Information Security Industry Specialist at Amazon and has over 20 years of experience in IT and cybersecurity in the healthcare and financial technology sectors. She sits on the advisory board for VigiTrust and is the Washington, DC chapter lead for Cloud Security Alliance and InfoSecGirls. She co-authored the paper "Toward a Zero Trust Architecture" in collaboration with Cloud Security Alliance and is the Advisor and author of "Essential Security Fundamentals," available on Amazon. She received the 2021 Cyberjutsu Cyber Mentor Award. She was shortlisted for Cyber Woman of the Year and Cyber Security Influencer of the Year at the 2021 Cyber Security Awards and People choice – Ally of the year 2022, DEI Champion – Ally of the year 2022.
*Examples, analysis, views and opinion shared by the speakers are personal and not endorsed by EC-Council or their respective employer(s)