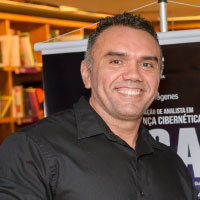 Speaker Yuri Diogenes,
Designation: ECCU Professor, cybersecurity author, and speaker
Topic: How a degree in cybersecurity puts you ahead of the curve?
Date of Webinar: 27th Feb, 2020
Time and Location: 8 am CST/ 7:30 pm IST/ 2 pm GMT
Watch Now
Speaker Bio:
Yuri Diogenes has a Master of Science in cybersecurity intelligence and forensics investigation from UTICA College and is a Senior Program Manager for Azure Security Centre in the Microsoft CxE Security team. Yuri has published a total of 22 books, mostly covering information security and Microsoft technologies. He is also a Professor at EC-Council University for Master of Science and Bachelor of Science in Cybersecurity Degree Programs and has many IT and security industry certifications, such as CISSP, CND, CEH, ECSA, CHFI, CompTIA Security+, CySA+, Cloud Essentials Certified, Mobility+, Network+, CASP, and CyberSec First Responder. You can follow Yuri on Twitter at @yuridiogenes
Topic Abstract:
In a study conducted in 2019, it was identified that there will be 3.5 million unfilled cybersecurity jobs by 2021. The severe talent shortage in the cybersecurity field is mostly due to the lack of qualified staff. But there is also a combination of experience versus accreditation. In many scenarios, for the professional to even be considered for a position, some minimum requirements must be met apart from work experience and formal education. My talk is going to focus on the following insights:
Cybersecurity degree is an investment in your long term career
Academic degree versus professional certification
The ramifications of cybersecurity job and the skill gap that you must fulfill
Learn what the job market has in store for you and how a cybersecurity degree brings you hands-on skills and knowledge mapped to various job roles.
*Examples, analysis, views and opinion shared by the speakers are personal and not endorsed by EC-Council or their respective employer(s)