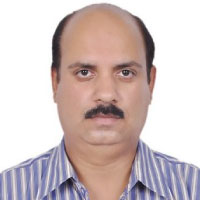 Name: Vijay Verma
Designation: VP & Head, Cyber Security Operations Center (CSOC)
Organization: Reliance Jio
Topic: Exploiting and Augmenting Threat Intel in SOC Operations
Date of Webinar: 30th July, 2019
Time and Location: 2:30 pm IST/ 5:00 pm SGT/ 9:00 am GMT
Watch Now
Speaker Bio: He is a dynamic professional leader having more than 24+ years of cross-functional experience in the Indian Army and Corporate Sector in Information Security and Telecom domains.
Presently Vijay is leading and managing Cyber Security Operation Centres (CSOC) for Reliance Jio and Jio Financial Services (Jio Payments Bank and Reliance Payment Solutions Limited). In addition he is steering Digital Forensics and Compromise assessment teams involving incident response, forensics as well as implementing cyber-attack detection controls and cyber drills at Reliance Jio.
In previous assignments, he was instrumental in planning SOC architecture for Indian Army and various Govt organizations in India like NCIIPC, ONGC and NIC. He has been an instructor for B.Tech. (IT) students at Military College of Telecommunication Engineering, Mhow, Indore, teaching Operating Systems, Computer Networking and Java fundamentals.
Professionally Mr. Vijay holds gold medals both in in B.Tech (Computer Science & Engineering) from NIT Hamirpur and M.Tech. (IT) from IIT Roorkee. His academic knowledge is enhanced by having been qualified as a PMP, CISSP, CEH, CHFI and ITIL certifications.
Topic abstract:
Monitoring Controls are the final line of defense in Information Security of any Enterprise. The information security strategy, policies , compliance and preventative controls are put to acid test by security operation center monitoring entire threat landscape of organization and efficacy of controls. In view of volume, variety and velocity of logs thrown at SIEM, the fine tuning of attack detection rules and SOC analyst's skills play a major role in attack/breach detection. Incorporating threat intel in SIEM and its effective usage increases breach detection as well as attempts to breach manifolds. In this session, we will learn how to make effective use of threat intel in SOC operations.
*Examples, analysis, views and opinion shared by the speakers are personal and not endorsed by EC-Council or their respective employer(s)