Date: April 25, 2023
Time: 9:30 p.m. AEST | 5 p.m. IST | 12.30 p.m. BST
Topic: Ethical Hacking for Cloud Security: Best Practices and Tools
Watch Now
Abstract: To remain ahead of the curve, ethical hackers must stay up-to-date with the latest techniques and understand the differences between cloud security and on-premise security to ensure the best possible security posture. Using ethical hacking programs to protect cloud assets and infrastructure will allow businesses to enhance the network, applications, and storage security of their organizations while taking advantage of the technological, operational, and financial advantages of cloud migration. This webinar will explore the methodology and tools used in cloud penetration testing while also discussing a framework/guidelines for practices that align with the shared responsibility model and SLA (Service Level Agreement) between the client business and the cloud service provider.
Key takeaways:
the importance of ethical hacking for cloud assets
comparing pentesting approaches for traditional and cloud environments
widely used ethical hacking tools for cloud
tools and techniques unique to cloud penetration testing
best practices for ethical hacking-based security in the cloud
Speakers: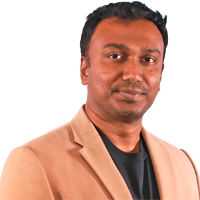 Sentil Velaytham, Staff Cloud Solutions Architect, VMware
Bio: A self-described technical evangelist, Sentil has worked with various organizations throughout his 20-year career, helping his customers solve their business problems and optimize their IT infrastructure. He is presently the Staff Cloud Solutions Architect at VMware and has previously worked with a multitude of technology partners, including Druva, Amazon, CISCO, and Microsoft. His grasp of network security fundamentals and the specifics of different technologies has allowed him to address the challenges of poor technological integration in an efficient, cost-effective, and elegant manner. As a true champion of cloud technology and software as a service, he takes a minimalistic approach to technical management to ensure maximum output.
*Examples, analysis, views and opinion shared by the speakers are personal and not endorsed by EC-Council or their respective employer(s)