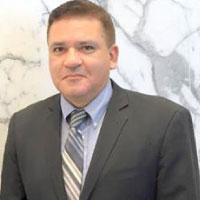 Name Ken Muir,
Designation: Chief Security Officer, LCM Security Inc
Topic: Deep Learning for Endpoint Security
Date of Webinar: 20th Feb, 2020
Time and Location: 10 am EST/ 8:30 pm IST/ 3 pm GMT
Watch Now
Speaker Bio:
Ken Muir is an entrepreneurial Information Technology leader with over 25 years of I.T. experience, of which, 20 years have been exclusively in cybersecurity. His business knowledge was developed while originally working in the auto industry, serving businesses and the government with their fleet and financing requirements.
He has hands-on experience building SOC operations, building cybersecurity strategies, consulting, drawing experiences as a security integrator, trainer, consultant, senior threat analyst, red team consultant, security architect, manager of security teams, and many others. These skills have been used in hundreds of organizations across different industries, such as energy, retail, aerospace, US and Canadian Governments, municipalities, and the education sector. Ken has been a principal security consultant in many multi-billion-dollar global enterprises for over 20 years, architecting, implementing, managing, analyzing and consulting on a wide array of security initiatives at both the operations level, as well the executive and board level. Ken has obtained globally recognized security industry certifications as well as a variety of technology and industry-specific certifications. Ken is also globally recognized for his experience.
Topic Abstract:
The challenge of protecting the end-user has never been more important than it is now. User awareness training is of vital importance to help defend organizations – but that is not enough.
Just Google statistics for user awareness training, and you will find that most companies either don't offer it or the ones that do offer training find that the attendance diminishes over time. And there are still gaps in the success rate for phishing tests.  Those are the gaps that ultimately lead to what you read in the news.
Traditional anti-virus is no longer keeping up with the industrialization of malware development. There needs to be a new strategy to match this. The costs to businesses are enormous and often fatal.
What is needed is a technical control that will help organizations protect the end-user and by extension, the organization. This is no different from web filtering technologies that are used to enforce the policy. As an example, policies are often written to let employees know what the organization considers to be inappropriate web browsing as far as content, but employees still break these rules, hence the need for technical enforcement.
Organizations are not patching and have a million excuses as to why they don't.  The traditional signature-based malware defenses are not working anymore and haven't been for a long time.  It would be an accurate assumption to say that all the organizations that are being breached have firewalls and anti-virus, so what is the problem. A significant amount of organization-level of cybersecurity maturity is often very low and is part of the problem, which leaves the endpoint and the user as the last line of defense.
Enter Deep Learning. This technology is not new but it is new in the world of cybersecurity. Malware variants are being created on an industrial scale, so what is needed is something that can protect endpoint computers designed to deal with what is now a substantial issue.
This talk is designed to walk through the current state of our cyber world, introduce Deep Learning, and how it will help in the fight against malware, including ransomware.
Attendee Takeaways:
The cost of a data breach
The value of traditional anti-virus
Deep learning in cybersecurity
Driverless vehicles and cybersecurity
NOTE: Participating Candidates will receive a Certificate of Attendance
*Examples, analysis, views and opinion shared by the speakers are personal and not endorsed by EC-Council or their respective employer(s)