Date: 3rd March 2023
Time: 1:30 PM GMT+3 | 11:30 AM CET | 4:00 PM IST
Topic: Understanding the Difference Between Digital Security and Data Privacy
Watch Now
Abstract: Information security today is said to be the need of the hour for businesses with a digital presence, and the same implies to digital users. While both security and privacy of the data are part of the information security approach, the information type and the responsibility for security define the difference between data security and privacy. Where privacy is the right of the user to control how their personal and sensitive information is viewed and used by others, data security is defined as the responsibility of business and government organizations to protect and store their user's data. Security generally refers to authorized access to sensitive data, while privacy is part of the policies describing the security roles and responsibilities. While privacy initially depends upon the agreement between the user and businesses, government regulations and compliances provide mandatory protection to digital users and force organizations to comply with achieving set data privacy policies. The current webinar aims to discuss various aspects of data security and privacy while discussing their difference and dependence on each other.
Key takeaways:
What is privacy in information security
Relationship between data privacy and cybersecurity
Is security without privacy possible
How security awareness brings security and privacy together
Privacy and Security vs. Compliance
Speaker: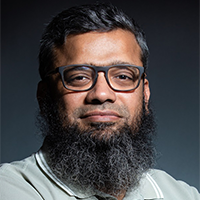 Faysal A. Ghauri, Cybersecurity Scholar | Fintech Enthusiast | Technology Leader
Bio: Faysal A. Ghauri is a cybersecurity scholar with over 18 years of experience delivering high-value projects in the cybersecurity and payment technology space. He has published six research papers in the International Journal of Computer Science and Information Security, holds a master's degree in cybersecurity from EC-Council University, and is currently pursuing a doctorate in cybersecurity leadership. He has been a key influencer and contributor to the creation of technology ecosystems that facilitate organizational excellence by leveraging innovative thinking across geographies. Faysal is an adept data center expert who has effectively led solid and resilient teams with a total project portfolio of more than USD 3 billion.
*Examples, analysis, views and opinion shared by the speakers are personal and not endorsed by EC-Council or their respective employer(s)