Date: 28th February 2023
Time: 7.30 PM IST, 2.00 PM GMT, 9.00 AM EST
Topic: The Most In-Demand Entry-Level Cybersecurity Skills for 2023 and Beyond
Watch Now
Abstract: If you're interested in becoming a cybersecurity professional and want to succeed in this field, filling an identified skills gap can be a great way to make yourself stand out—but what specifically should an aspiring cybersecurity professional study?
A sound technical background with solid knowledge of IT, systems, operating systems, programming, and networking is surely a bonus to help you break into the cybersecurity field. As a beginner, it's essential for you to have a solid understanding of the most highly sought entry-level skills. These skills will not only make you more attractive to potential employers but will also give you a strong foundation for a successful career in cybersecurity.
Entry-level cybersecurity professionals must understand core skills like network security, ethical hacking, security operations, digital forensics, etc. An industry-recognized certification like EC-Council's C|CT goes beyond the fundamentals of cybersecurity, helping you showcase your knowledge and skills to potential employers. As the demand for cybersecurity professionals continues to grow, having these skills and certifications will be vital for success in the field. Our webinar highlights the core skills aspiring cybersecurity professionals need to develop.
Key takeaways:
in-demand cybersecurity skills for beginners in 2023
potential career paths for entry-level professionals
the relevance of secondary cybersecurity skills such as threat hunting, risk management, compliance, etc.
Speaker: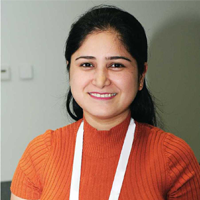 Vandana Verma, Security Relations Leader – APJ, Chair at OWASP & InfosecGirls
Bio: Vandana is a security solutions architect at Snyk. Her experiences range from application security to infrastructure, and she currently works with product security. Vandana is the chair of the OWASP Global Board of Directors and leads diversity initiatives like InfosecGirls and WoSec. She is also the founder of InfosecKids. She has been a keynote speaker and trainer at various public events, including Global OWASP AppSec, Black Hat events, and regional events like BSides in India.
Vandana is also a member of the Black Hat Asia Review Board and multiple other conferences, including Grace Hopper India and OWASP AppSec USA, to name a few. She is also one of the organizers of BSides Delhi.
Vandana has also been the recipient of multiple prestigious awards such as Cyber Security Woman of the Year Award 2020 by Cyber Sec Awards, Application Security Influencer 2020 by WhiteSource, a global cybersecurity influencer among IFSEC Global's "Top Influencers in Security and Fire" category for 2019, and the Women Cyberjutsu Society's "Cybersecurity Women of the Year" award in the "Secure Coder" category. Instasafe has also listed Vandana as one of the top women leaders in the field of technology and cybersecurity in India. She has trained over 10,000 diverse candidates in cybersecurity.
*Examples, analysis, views and opinion shared by the speakers are personal and not endorsed by EC-Council or their respective employer(s)