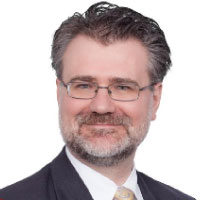 Name: Sebastian Hess, CCyber Risk Consultant, AIG
Topic: Cyber Risk Quantification – An Insurer's View
Date of Webinar: 22nd November, 2018
Time and Location: 11:30AM CEST/ 4PM IST/ 9.30AM GMT
Watch Now
Speaker Bio: Sebastian joined AIG's Cyber Risk Consulting Team to help AIG European customers mitigate risk from emerging threats, using his twenty years of private/public specialization in Information Technology Security and Cyber Defense.
Throughout his career, Sebastian has racked up an impressive record of achievements and advancements. Prior to joining AIG, Sebastian was the Chief Information Security Officer for Isabel Group. However, his career has mostly been in the global public sector. Sebastian started as a military officer with the German Air Force leading to his responsibility for German information security services through several U.S. corridors. Subsequently, he was appointed Chief Information Security Officer for NATO's International Security Assistance Force (ISAF) in Afghanistan at ISAF Joint Command and joined the team that directed design and implementation of NATO's Computer Incident Response Capability.
He holds a Masters' in Computer Science from the German Armed Forces University, a Masters' in Executive Leadership from Georgetown McDonough School of Business, and an LL.M. degree from Katholieke Universiteit Leuven in Belgium.
Topic Abstract: In this webinar, the participant will learn about the benefits of cyber insurance from an enterprise risk management perspective, focusing on denial of service, data breaches, and business interruption. The webinar explains a methodology being used by an insurer to assess and rate a given enterprise cyber risk, incorporating threat information and security controls. Finally, the webinar explains how such an enterprise can improve their security program, based on the feedback from an insurer.
Learning Objectives:
What is cyber insurance – a brief overview
How are cyber risks viewed by an insurance company
How can an insurer's view help to better understand and quantify your own cyber risk
*Examples, analysis, views and opinion shared by the speakers are personal and not endorsed by EC-Council or their respective employer(s)