Date: July 1, 2022
Time: 9 a.m. CDT/5 p.m. AST/7:30 p.m. IST
Topic: Creating Your Cybersecurity Career Roadmap: Essential Skills for Today's Workplace
Watch Now
Abstract:
In a world where technology is intertwined with routine activities, cybersecurity has become an integral part of daily life. Though cybersecurity careers are challenging and demanding, they remain an attractive prospect due to high compensation and rewarding, exciting work. To keep up with ever-evolving attack techniques and vectors, as well as the growing sophistication of hackers, cybersecurity professionals must make an ongoing effort to keep their knowledge and skills up to date. To successfully mitigate risks, security experts need relevant technical and practical knowledge—both as a result of acquired on-the-job experience and through training and certification programs focused on building cybersecurity skills. In this webinar, you will learn how to build your cybersecurity career roadmap by identifying and exploring the essential skills that will help you progress and grow as a cybersecurity professional.
Key takeaways:
What are the key pathways to a successful career in the cybersecurity domain?
How can cybersecurity professionals build a career roadmap, and what essential skills should be part of it?
How can cybersecurity professionals identify relevant skills and areas where they should gain experience?
Speaker: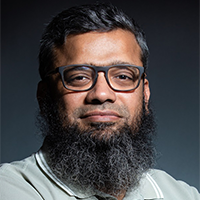 Faysal A. Ghauri, Cybersecurity Scholar | Fintech Enthusiast | Technology Leader
Bio: Faysal A. Ghauri is a cybersecurity scholar with over 18 years of experience delivering high-value projects in the cybersecurity and payment technology space. He has published six research papers in the International Journal of Computer Science and Information Security, holds a master's degree in cybersecurity from EC-Council University, and is currently pursuing a doctorate in cybersecurity leadership. He has been a key influencer and contributor to the creation of technology ecosystems that facilitate organizational excellence by leveraging innovative thinking across geographies. Faysal is an adept data center expert who has effectively led solid and resilient teams with a total project portfolio of more than USD 3 billion.
*Examples, analysis, views and opinion shared by the speakers are personal and not endorsed by EC-Council or their respective employer(s)