Date: October 28, 2022
Time: 10 a.m. ET/7:30 p.m. IST/10 p.m. SGT
Topic: Combatting Cybersecurity Attacks Amidst a Raging COVID Infodemic
Watch Now
Abstract: Cyber-psychological issues among online users are rising, with mental health being the new attack target. Amidst the ongoing pandemic, COVID-related misinformation is the newest attack vector. This online threat is so significant that the World Health Organization (WHO) has called it a COVID "infodemic." Recently, there have been some research and development (R&D) initiatives to address the threat plaguing the cybersecurity landscape. However, much work remains to be done.
As part of an ongoing R&D project, we are exploring approaches to address COVID-19 cyberattacks by using data analytics-driven knowledge recommender models, which are meant to act as an advisor for netizens regarding the credibility of online COVID information. We are looking to develop a technology that will advise users on the credibility of COVID websites to safeguard them against infodemic cyber threats.
Key takeaways:
Learn about the COVID infodemic.
Learn about COVID infodemic-based cybersecurity attacks that exploit human vulnerabilities.
Learn about emerging solutions, including ongoing R&D work to protect online users from COVID-19 cyberattacks.
Speaker: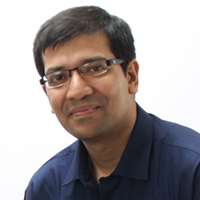 Dr. Ankur Chattopadhyay Assistant Professor of Cybersecurity at Northern Kentucky University (NKU)
Bio: Dr. Ankur Chattopadhyay is an assistant professor of computer science and cybersecurity in the School of Computing & Analytics at Northern Kentucky University (NKU). He currently serves as the program coordinator of the NKU bachelor's in cybersecurity program. He earned his PhD in computer science from the University of Colorado at Colorado Springs and has worked with the NSA/NSF as the PI/Program Director for multiple GenCyber program grant awards since 2017. His research interests include visual privacy, authentication trust, cybersecurity & CS education, privacy-enhancing & inclusive machine vision, online healthcare information assurance, trustworthy AI, and cybersecurity. He has more than 15 years of work experience in academics and industry.
*Examples, analysis, views and opinion shared by the speakers are personal and not endorsed by EC-Council or their respective employer(s)